Another week, another raft of departures from Twitter's executive ranks. This one is bigger than most: Four vice presidents all went out the door this weekend, along with the general manager of Vine, which Twitter owns. That's 40 percent of the company's senior executive team. But at this point, who's counting?
Jack Dorsey, the company's brash new (and former) CEO and co-founder, confirmed the departures on Monday, saying the four VPs had all "chosen to leave." So wait: Did the whole quartet, in some remarkable coincidence, land plum jobs at other companies that they just couldn't turn down? Uh, nope: Each will be "taking some well-deserved time off," Dorsey clarified. One could be forgiven for surmising that it was Dorsey himself who made the executives an offer they couldn't refuse.
Here are the names of those who will soon be spending more time with their families: Kevin Weil, senior VP of product; Alex Roetter, senior VP of engineering; Katie Jacobs Stanton, VP of global media; and Skip Schipper, VP of human resources. (The Vine GM, at least, has somewhere else to be: Jason Toff is returning to Google to work on virtual reality projects.) The list of top executives who remain at Twitter is only slightly longer: Dorsey, COO Adam Bain, CFO Anthony Noto, CTO Adam Messinger, General Counsel Vijaya Gadde, and Chief Accounting Officer Robert Kaiden. All of them, I figure, will be pulling double- or triple-duty until new hires arrive to fill in the gaps. Did I mention Dorsey is also CEO of Square?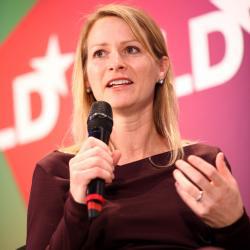 The exits are all part of a broader shake-up that will include members of the company's board, the New York Times reports. Twitter is expected to announce a new chief marketing officer on Monday, and at least one of the new board members is said to be a "high-profile media personality."
The personnel purge sent Twitter's stock price plunging below $17, flirting with a new all-time low. The company priced its shares at $26 when it went public in November 2013, and they peaked at close to $70 in January 2014. They've been on a largely downward trajectory ever since.
No one should be surprised, then, that Dorsey is cleaning house. He returned to the CEO role in October with a mandate to reverse the company's fortunes. He made it clear from the start that he had big changes in mind, and he has already started making them. He moved quickly to launch "Moments," a product that was conceived under his predecessor Dick Costolo, perhaps because Dorsey really liked the concept—or perhaps because he didn't, and was eager to move on. He scrapped the "favorite" star for a "like" heart. And he's planning to allow longer tweets, probably in a bid to keep users inside the Twitter app.
This sort of corporate turnaround job almost always entails some internal conflict, and it was probably inevitable at Twitter in particular. You know how Twitter's power users go bananas every time the company changes something that they view as a core feature? From everything I've heard, many of the company's employees and executives are just as dogged in their loyalty to the product and what it stands for. No doubt some of them clashed with Dorsey over the changes he's ramming through. Perhaps some of them clashed with him personally, as well—by all accounts, his management style makes Costolo's look cuddly by comparison.
In any case, Dorsey will soon have his own team in place to carry out his will. But he's going to need a lot more than some new faces and longer tweets to revive a company whose product simply doesn't match Wall Street's expectations.
Twitter's user growth was already approaching a plateau when it went public more than two years ago. It has since become clear that the service is fundamentally different from the likes of Facebook, Instagram, and Snapchat. Everyone wants to see updates from friends and family; lots and lots of people want to share and view each other's photos; messaging is nearly universal. Tweeting—that is, sending brief bursts of ideas to the world at large, in a public forum—is essential for those whose professions demand a public presence. But for the private citizen, it's mostly superfluous. That's not the fault of any corporate vice president. It's just the nature of the product.
To change the scope of Twitter's audience will require changing the product in ways that run much deeper than the length of tweets or the shape of the like button. Doing it without alienating the site's core user base—which was always Costolo's aim—might prove impossible, even for Dorsey. But then, Dorsey has already shown us he isn't afraid to leave the loyalists behind.