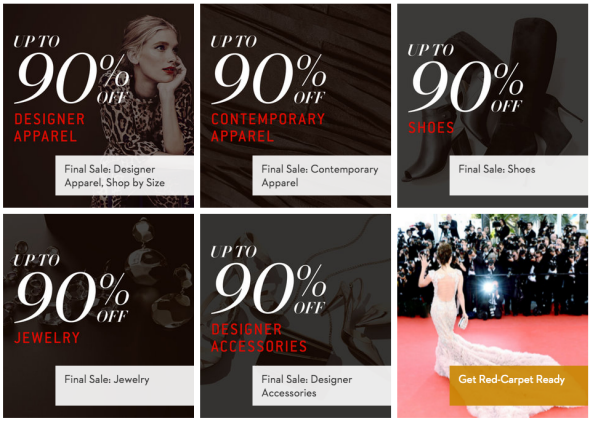 As it was foretold, so it has come to pass. Hudson's Bay Co., corporate parent of Saks Fifth Avenue, has purchased discount flash sale site Gilt Groupe for $250 million in cash. As I noted in a post on rumors of the sale in December, Gilt was once valued at $1.1 billion, meaning that the site, like the commodities it sells, really did turn out to be a bargain.
The most surprising element of the announcement is the suggestion that Gilt may come away from this exchange with a new retail model. In a press release, Gilt CEO Michelle Peluso proposes the site will benefit from its new connection to HBC's other retail outlets. "Our members will find having a brick and mortar presence valuable and a positive addition to the Gilt experience," Peluso says.
The press release goes on to explain that customers may be able to return items purchased from Gilt online at Saks Off 5th retail locations, of which there are almost 100 sprinkled throughout the United States in both suburban and metropolitan locations. It also notes that HBC could create "Gilt concept shops inside Saks Off 5th locations," though it does not elaborate on how the company plans to square these physical shops with Gilt's existing flash sale model.
While this is a sensible bit of corporate synergy, it's also a striking development for a company with a business model like Gilt's, one specific to the digital environment that birthed it. In this regard, however, it may simply be following retail trends. As I've reported before, many apparel companies that started online have begun to open physical locations. This general movement suggests the possible limitations of e-commerce models where, as Gilt's devaluation demonstrates, competition comes all too easily.
For Gilt, the resulting shake-up may be helpful, potentially allowing it to restore some of its lost luster. HBC, for its own part, claims that it will benefit from Gilt's highly developed digital platform. 
---