Airbnb is taking a victory lap after defeating San Francisco's Proposition F, a ballot measure that would have tightly regulated short-term home rentals in the city. The measure, which failed late Tuesday night with 55 percent of votes cast against it, would have limited hosts to renting their units on Airbnb for 75 days a year as well as encouraged hosts' neighbors to report and sue them for regulatory violations. Prop F's supporters invested more than $1.5 million in promoting the initiative; Airbnb spent more than $8 million opposing it.
On its blog, Airbnb is touting the vote as a "victory for the middle class." The company says it had conversations with more than 105,000 voters and knocked on 285,000 doors leading up to the vote. "In this election, the Airbnb San Francisco home share community became a movement," writes Chris Lehane, a former Clinton administration adviser and Airbnb's recently appointed head of policy. (Lehane continued to make use of "movement" terminology during a Prop F debriefing Airbnb held on Wednesday afternoon, including the memorable comment, "A movement is a little like riding a tiger.")
That Airbnb pulled off the win is even more impressive when you consider that, only two weeks earlier, the company managed to offend just about all of San Francisco with a tone-deaf ad campaign. What's it say that Airbnb was able to bounce back from its marketing mishap so quickly? Perhaps that the things that generate outrage on the Internet aren't the same as the ones that do at the ballot. Perhaps that—as Airbnb had insisted—support for Prop F came mainly from the hotel industry and didn't reflect the views of mainstream San Franciscans. Perhaps that the city's community of Airbnb hosts, who the company claims each earn a "typical" $11,000 on the platform a year, is truly a formidable voting force. Or perhaps that, more simply, people like Airbnb more than they resent the tech industry.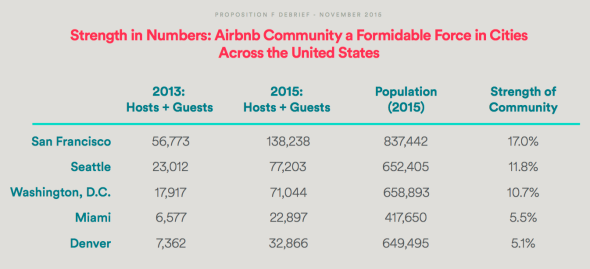 The Prop F vote certainly won't resolve all of Airbnb's frictions with San Francisco. At the debrief, the company faced tough questions about its stance on weeding out bad actors on its platform and cooperating with the city to enforce existing regulations. Lehane dodged a question about whether Airbnb should spend more energy solving these problems, and less lashing out at its critics. "We work with our community. We educate our community. The city works with us," Lehane said, with a hint of defensiveness. "There are things that both sides could do better." In New York City, where Airbnb's presence is probably even more hotly contested, the company and regulators are reportedly close to reaching a data-sharing agreement that would help officials crack down on so-called illegal hotels.
In San Francisco specifically, the debate over Airbnb is also sure to continue so long as the city faces soaring rents and a shortage of housing, and so long as people who live there tend to blame tech for the city's problems. Based on how Tuesday's election went on several counts, those messes will be around for quite a while. And so the most important takeaway from Airbnb's win in San Francisco actually has very little to do with the city or its housing policies. It's that the vote proved how Airbnb has mastered grassroots lobbying, even in a place where its relationship with locals is complicated at best. Over at Wonkblog, Emily Badger frames it like this: More people in San Francisco have used Airbnb than turned out to Tuesday's election.
In the on-demand or "sharing" economy, where companies favor algorithms and two-sided platforms over traditional inventory, the ability to build a vast consumer base and harness it for political gain is arguably a company's biggest asset. Uber has been able to expand rapidly and accrue a valuation of more than $50 billion in no small part because it excels at this. After Tuesday's vote in San Francisco, there shouldn't be any doubt that Airbnb does too.