This week in tacky public relations campaigns: Wow Air, the ultra-low-cost Icelandic air carrier, is teaming up with dating app Tinder to give away free airline tickets. The tag line on the promotion is "flirt your way to Iceland." What this means is that if you, Tinder user and prospective Wow customer, "match" with Wow's corporate Tinder profile and then send what Wow deems "the wittiest pickup line," you will be rewarded with round-trip tickets for two to Iceland. Wow is conducting the Tinder contest in each of its markets—in the U.S., Baltimore/Washington D.C. and Boston—and plans to pick one winner from each.
The promotion itself is kind of meh. The free tickets have three big blackout zones, and weight restrictions on luggage (as do all Wow flights, though customers can pay more for heavier baggage). They're also for the same flights that Wow periodically advertises for just $99, which sounds a lot less impressive in terms of retail value than "free flight to Iceland." What is great about the stunt, though, is how in line with Wow's unabashedly tacky branding it is. Wow, which launched in 2011, is nothing if not an air carrier with personality. Its website features exclusively bright colors (magenta, sky blue, yellow) and images of similarly brightly clad flight attendants with smiles worthy of dental ads. On the company's "about" page, it claims, "Everything we do has the WOW factor!" Even its barf bags are cheeky.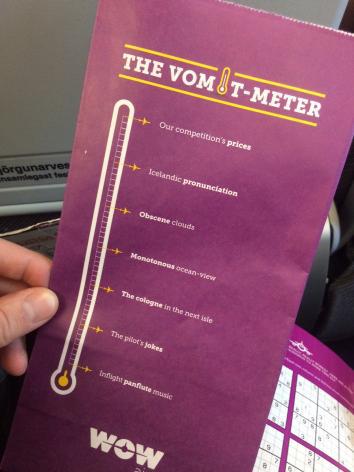 Tacky branding often goes too far—see McDonald's "Pay With Lovin' " and Qdoba's "Share a Smooch," but Wow's promotion is honestly pretty great. When so many U.S. air carriers are shrinking seats, cutting amenities, and generally nickel-and-dime-ing their customers, it's refreshing to have an air carrier like Wow that embraces its cheapness and silliness. Wow customers aren't under any illusion that they're getting a first-class ride to Iceland, and Wow isn't in the business of creating one. But what they are doing is working! Per Reuters, Wow is in talks to buy two more planes and expand its list of transatlantic destinations. The company also expects to be profitable in 2015 for the first time since it was founded. Clearly, Wow's type of flights aren't for everyone. But they are for some—people who are OK with a budget flight overseas and amazingly gimmicky branding. People who are also probably on Tinder.