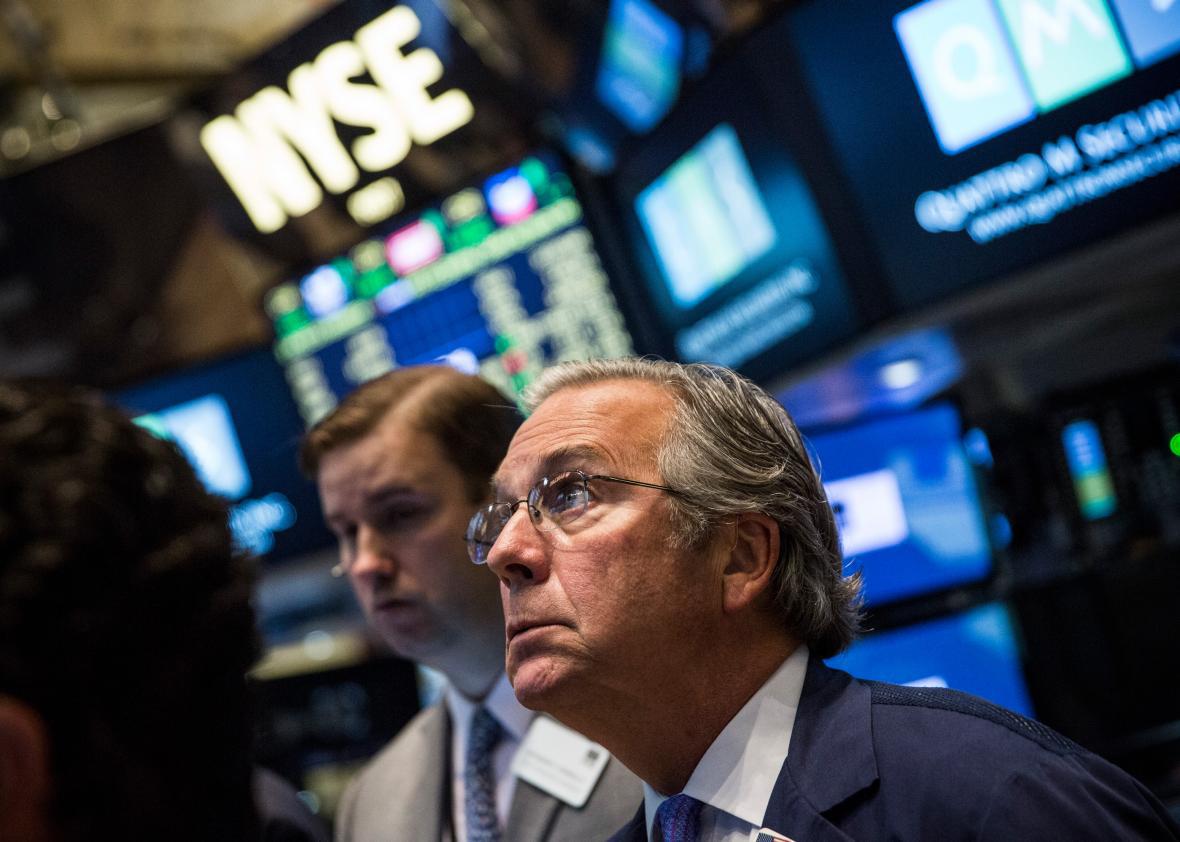 Walmart execs are convening Wednesday for the company's 22nd annual meeting for the investment community. Topics on the roughly three-hour agenda include Walmart's overall business strategy, its focus on e-commerce, its attempts to compete more in grocery offerings, and its commitment to improving things for workers. But so far, Wall Street seems to have only heard one thing—and it really, really doesn't like it.
Shares of Walmart tumbled more than 9 percent late Wednesday morning after the company said it expects profits to shrink 6 to 12 percent during the next fiscal year. Per Bloomberg, the plunge is making for Walmart's worst day on the stock market in more than 15 years. As the meeting broke for lunch in the early afternoon, shares had hardly recovered, trading down about 8 percent to around $61.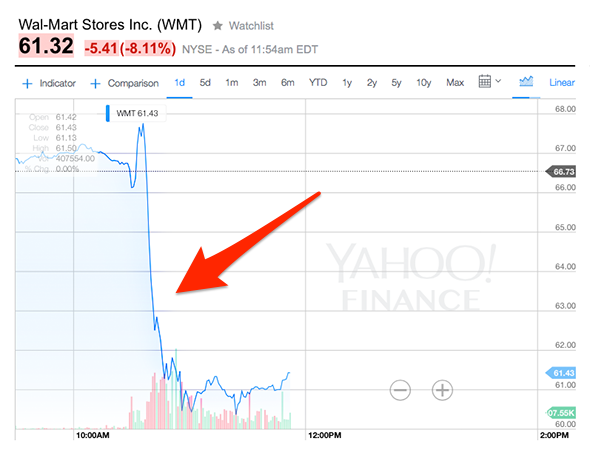 Why such a big cut to Walmart's outlook? The short answer is that the company is making a ton of investments and plans to keep doing that in fiscal year 2017. It's raising wages for employees, building out its online grocery offerings, and piloting subscription shipping, among other things. Many of these efforts are geared toward fending off Amazon, the online shopping giant that threatens to replace Walmart as the default everything store of the typical American. Others are aimed at riding some of the big trends in retail right now—for starters, on-demand groceries (see: Instacart, AmazonFresh) but more generally on-demand anything (see: Amazon, Google Express, UberRush, Postmates, and various others).
On top of all this, Walmart is also feeling pressure from the economy. After years and years of high unemployment, America's jobs situation has finally started to look up. The result is that workers have more bargaining power and can maneuver for full-time jobs over part-time positions, not to mention higher wages. Walmart's decision to raise wages this year, and to phase in another increase in 2016, was almost certainly in response to this. Plus, the company's reputation for long lines, poor service, and empty shelves was really getting out of hand, and treating your workforce a little better generally goes a long way toward fixing that.
"Our theme this year is that our people make the difference—and they do. It's why we're holistically investing in wages, providing training and more flexible hours for them," Greg Foran, Walmart's U.S. chief, said Wednesday. "I'm seeing improvements. I'm seeing and hearing from our teams in stores that they're better able to recruit and retain talent. The momentum is starting to shift. It's pretty simple, isn't it? In my experiences in running businesses, if you pay your people competitively, if the managers are really engaged and they're good, if you train people, you give them the right schedules—you're going to see happier associates. You'll see a marked improvement in the shopping experience. And you'll get a marked return on your investment. So that's how we'll win."
It sounds good when Foran says it. The trick, for now, will be making Wall Street and skittish investors believe it.
---