It was wonderfully, serenely, even disarmingly quiet in downtown Philadelphia this past weekend. At the order of the U.S. Secret Service, 4.7 square miles were cleared of automobiles for two days as Pope Francis, his entourage, and his devotees descended upon the city. While the expected massive crowds never quite materialized, the streets filled with local children playing, cyclists lazily pedaling about, and clusters of pilgrims wandering between events—all without a car in sight.
Philadelphia's "traffic box" encompassed much of its heavily populated downtown and spilled over the Schuylkill River into University City, the domain of the University of Pennsylvania and Drexel University. More than 500 cars were towed from the streets to complete the effect. Center City and its adjoining neighborhoods, most of them packed with rowhomes, make Philadelphia's core one of America's more densely populated urban areas, but traffic is still heavy and constant—especially on the arterial routes. Biking through the massed cars and trucks can be deeply unpleasant, especially if you wind up on Market Street, Broad Street, or anywhere in the immediate vicinity of City Hall. Crossing the street on foot can be a nasty experience, too. Plan Philly, a local news site devoted to urban planning, recently showed that pedestrians are frequently hit in Center City, although fatality rates are low, since cars tend to be going slower there.
That's why the weekend of Pope Francis' visit wasn't just a religious experience for Catholics. Suddenly the area of the city most conducive to car-free living was actually car-free—and the experience was glorious. Pedestrians could step off a curb without anxiety. Bicyclists had plenty of room to maneuver around anyone who happened into their paths. Children could play outside without giving their parents panic attacks.
The fact that cities are nicer when cars aren't zipping around is obvious once it's been experienced. In recent years many metropolises across the world—from New York to Jakarta, Indonesia, to Bogotá, Colombia—have been experimenting with contained and short-lived "open streets" days, where automobiles are banned and the city blocks returned to the people. What made Philadelphia's experiment stand out is that its car-free moment was so extensive and so incidental. Most cities that actually plan for open streets only select a small area for the festivities, but the experience of a huge swathe of Philadelphia being reclaimed created a lot of converts to the cause. The fledgling group Open Streets Philly started a Change.org petition earlier this week that quickly exceeded its goal of 2,500 signatories. The buzz around Philadelphia's carless weekend may not have convinced anyone that city centers need to be permanently car-free, but it certainly demonstrated a hunger for occasionally experiencing a city without the danger and distraction of automobiles. It's a hunger more cities should sate.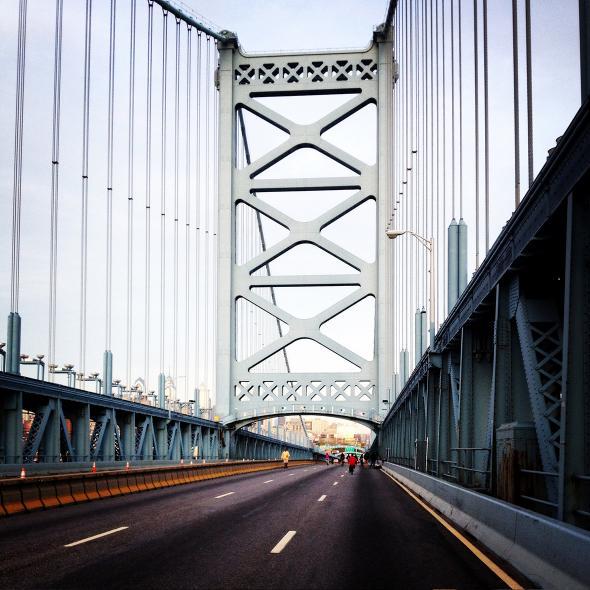 In Philly, the resulting satisfactions were simple, like a "PopeRide" for cyclists organized by Alexandria Schneider, a Comcast employee. "I was really pleased to see the original idea of Philadelphia as a walking city come back to the fore," she told me. "It wasn't designed as a car-based city like the cities out West; it was designed for pedestrians. The city got a lot nicer for those two days."
Over the weekend, Schneider spotted pick-up football and soccer games being played on Philly's wider streets, while on small neighborhood blocks she saw impromptu dinner parties thrown beneath the streetlights. Her PopeRide began as a Facebook event that she expected to attract a few dozen friends and acquaintances. It ballooned into 3,000 people biking leisurely through the city. (There was also an organized bike ride for families, "Kidical Mass," that drew about 60 families.) When the architecture critic for the Philadelphia Inquirer, Inga Saffron, ran into Philadelphia mayoral candidate Jim Kenney at the PopeRide, he told her, "We should do this even when the pope's not here." In her column on the carless city, Saffron reported that Kenney (who is widely seen as the near-certain next mayor) expressed interest in occasional mass street closures and the possibility of future downtown pedestrian- and bike-only corridors. In an email to me, Kenney wrote that "creating an open-streets program in Philadelphia is something I've thought about for the last several years. Bogotá has a great model that I'd like to look at replicating."
Indeed, the Colombian capital has held car-free days for 15 years, as has Brussels. This year Barcelona, Spain, began closing sections of its major thoroughfares to cars on Sundays and holidays, while Jakarta's car-free holidays have also proved popular. A reported 246 municipalities in Europe agreed to throw car-free days this year, including major cities like Budapest, Hungary; Lisbon, Portugal; and Stockholm. Los Angeles, of all places, even has a limited car-free day of its own.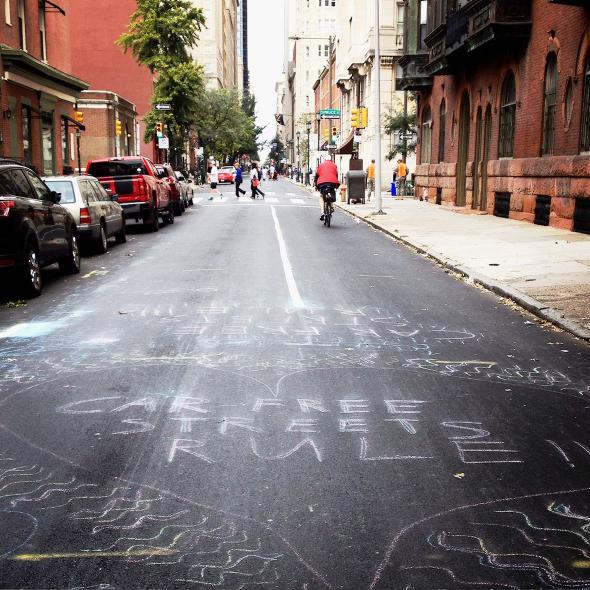 And just this past Sunday, Paris held its first car-free day, in which automobiles were banned from about a third of the city and were forced to slow to 12 mph in other areas. The city's mayor, Anne Hidalgo, established the holiday in part as a response to a day last March when air pollution was so thick that the Eiffel Tower was obscured by thick brown smog. But cleaner air was only one of the expected benefits. "Bumper-to-bumper traffic that normally clogs the city's boulevards will be replaced by street parties, yoga classes, markets with fresh produce and—this being Paris—food tastings with top chefs," reported USA Today.
These auto-free activations, whether celebratory or more permanent, face one obvious enemy: drivers, who are a hugely powerful political constancy by dint of sheer numbers. Policies that infringe on the ability to operate automobiles anywhere at all times have proven difficult to sustain. In New York City, former Mayor Michael Bloomberg's congestion-pricing scheme famously came to naught in the city with the lowest rates of car ownership in the nation.
The last Philadelphia mayor to attempt to radically constrain car usage to any significant degree was Richardson Dilworth, a reformist Democrat who reigned from 1956 to 1962. His biographer Peter Binzen wrote that Dilworth dreamed of a ban on cars in Center City, "a restricted area that would comprise 400 blocks," which would have been serviced by fare-free buses.
The plan never even approached reality, but Dilworth did promote an annual $40 fee (about $319 in today's dollars) for parking in one section of superdense South Philadelphia, where Kenney grew up, with its narrow streets and tightly packed rowhomes. "This problem that has been growing for eight or nine years—the problem of the automobile threatening to engulf our city," he told an angry crowd in 1961. "The automobile has reached a point where it is a danger to our health, our welfare."
Reaction was swift and brutal. During his speech in favor of the parking fee, the hall where Dilworth spoke was pelted with stones, bottles, and fruit, breaking some of the windows and forcing police to hurriedly escort him away under another hail of detritus. Philadelphia's black newspaper, the Tribune, said the proposal "made him as popular as a Freedom Rider in a White Citizens Council meeting!" Police guards were placed around Dilworth's home and the proposal soon died in city council.
As of now, no one is suggesting anything as ambitious as Dilworth's dreams of a car-free Center City. But the weekend of Pope Francis' visit clearly inspired local urbanists to dream bigger, of car-free days in Center City and pedestrian- and cyclist-only corridors. At the very least, today's residents of Center City and its environs are already proving far more welcoming of car-limiting policies than the South Philadelphians of 1961 were.