The fancy-coffee industry is consolidating fast.
Peet's Coffee & Tea announced on Friday that it will acquire a majority stake in Intelligentsia, the award-winning Chicago-based coffee-roasting company. Financial terms were not disclosed, but the company said in a press release that Intelligentsia's co-founders would retain a "significant stake" in the business and stay "actively involved" in its operations.
The news comes just three weeks after Peet's announced that it was buying Portland, Oregon—based Stumptown Coffee Roasters. It has now acquired two of what some have called the "big three" third-wave roasters, the other being Durham, North Carolina's Counter Culture.
My coffee-loving techie Twitter followers were predictably outraged by the news:
Which is funny, when you think abut it, because the reaction to Silicon Valley startups getting acquired by larger tech firms tends to be largely congratulatory.
The difference, of course, is that coffee makers like Stumptown and Intelligentsia have traded on perceptions that their products are authentic and artisanal. No doubt they are, in some meaningful ways.
But, as I argued when I wrote about the Stumptown deal earlier this month, the outrage over their growth is misplaced. The very fact that so many people outside of Portland and Chicago have heard of these companies, sipped their coffee, and formed allegiances to their brands belies the notion that they were hidden gems whose quality depended on staying small. They've been expanding aggressively for years. Stumptown was already owned by a private-equity firm. Intelligentsia made it known a month ago that it was seeking to sell to a private-equity buyer, with a target price of $100 million.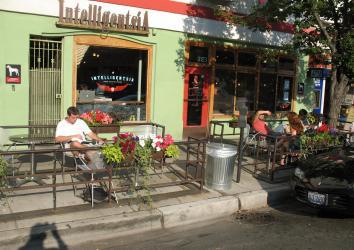 They're not the only ones racing to become the Starbucks of the third wave. The Bay Area's Blue Bottle, which I profiled in 2014, raised another $70 million in June. Philz, La Colombe, and even Bulletproof (bleh) have taken on multimillion-dollar funding rounds. As I explained in the Blue Bottle piece, they're following a path blazed decades ago by Starbucks and, yes, Peet's.
Peet's insists that Intelligentsia, like Stumptown, will remain independently operated. That makes perfect sense, because the value of their brands depends on it. Peet's understands that. Here's the statement from its CEO, Dave Burwick:
To capture more than our fair share of this [super-premium] market, it's important that we offer differentiated craft coffee brands with unique propositions and appeal. Peet's and Intelligentsia, along with Stumptown, which we recently signed an agreement to acquire, are highly complementary brands and businesses that collectively satisfy the desires of the new coffee connoisseur.
As these companies grow, there's a chance their coffee's quality will gradually decline, although they all insist that more money will actually improve their sourcing and roasting processes. But even if it does, their financial success ensures that other roasters—ones as small and passionate and careful as they all were in the beginning—will arise to take their place.
To decry the growth of companies that make good coffee is to support a status quo in which Starbucks continues to dominate the industry indefinitely. Peet's clearly believes there's a broader market for better beans, and that America's taste in coffee is finally moving past the Starbucks stage. I, for one, hope that it's right.
Previously in Slate: