Today is the magical day that Slate's Moneybox team has been waiting for: the nationwide rollout of McDonald's all-day breakfast. We told you McDonald's was testing it in March; we got the news in early September that all-day breakfast would soon reach the entire country; and on this sixth day of October two-thousand-and-fifteen we are excited to report that our dream has become reality.
Naturally, to mark the occasion, a Slate colleague and I decided to get McDonald's breakfast for lunch. At about 1 p.m., well after the traditional 10:30 a.m. end of McDonald's breakfast hours had passed, we headed down to a McDonald's outpost on Varick Street in New York's West Village.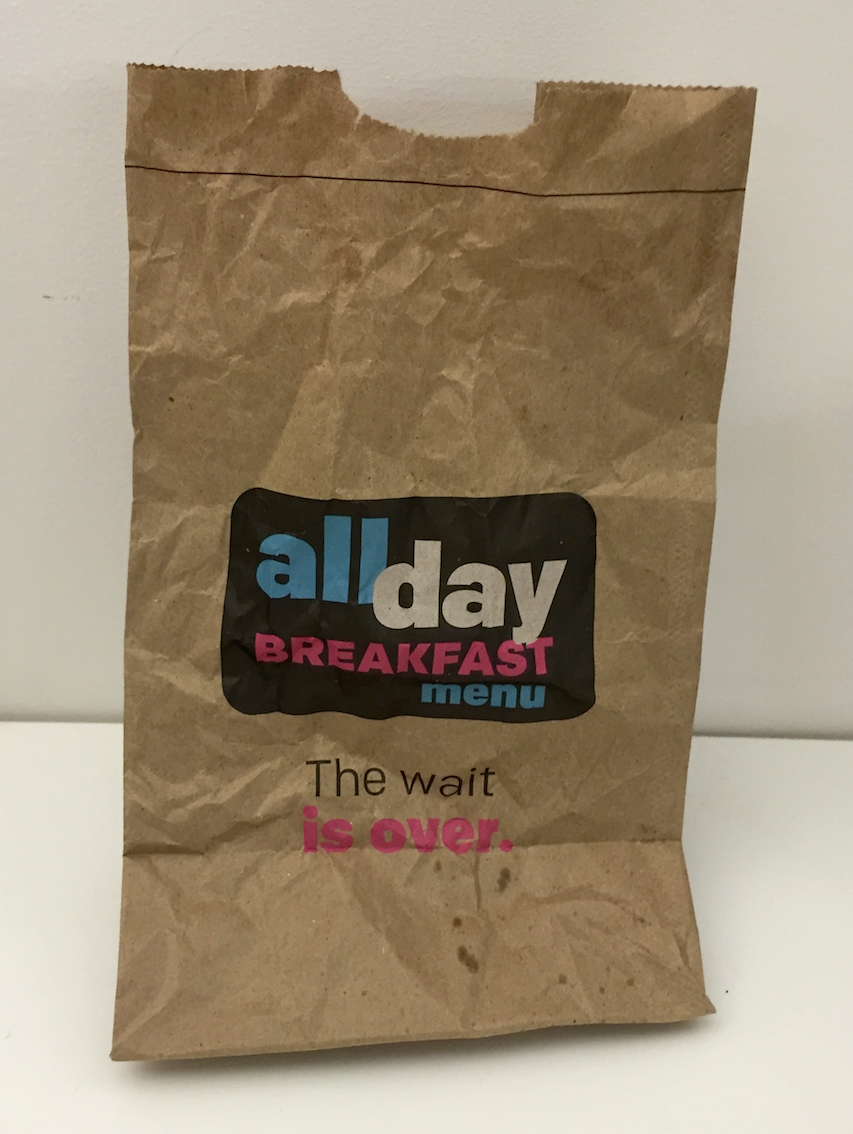 Inside, multiple customers carried brown paper bags with "All-Day Breakfast Menu: The Wait Is Over" emblazoned on them. Yet when we went to order, a cashier informed us that this particular McDonald's location was not participating in all-day breakfast. (When I contacted McDonald's to ask how many others weren't participating, Lisa McComb, a company spokeswoman, responded that she was "not aware of any restaurants that are not offering all day breakfast" and that this was "an anomaly.")

Not so easily deterred, we turned north to the McDonald's near West Fourth Street, and this time it was clear we'd come to the right place. The inside of the store was decked out in balloons. Staff members wore shirts that read "Show Breakfast Who's Boss" on the back. My co-worker snapped a few photos while I got on line; one of the few other customers there came over to ask if we were tourists.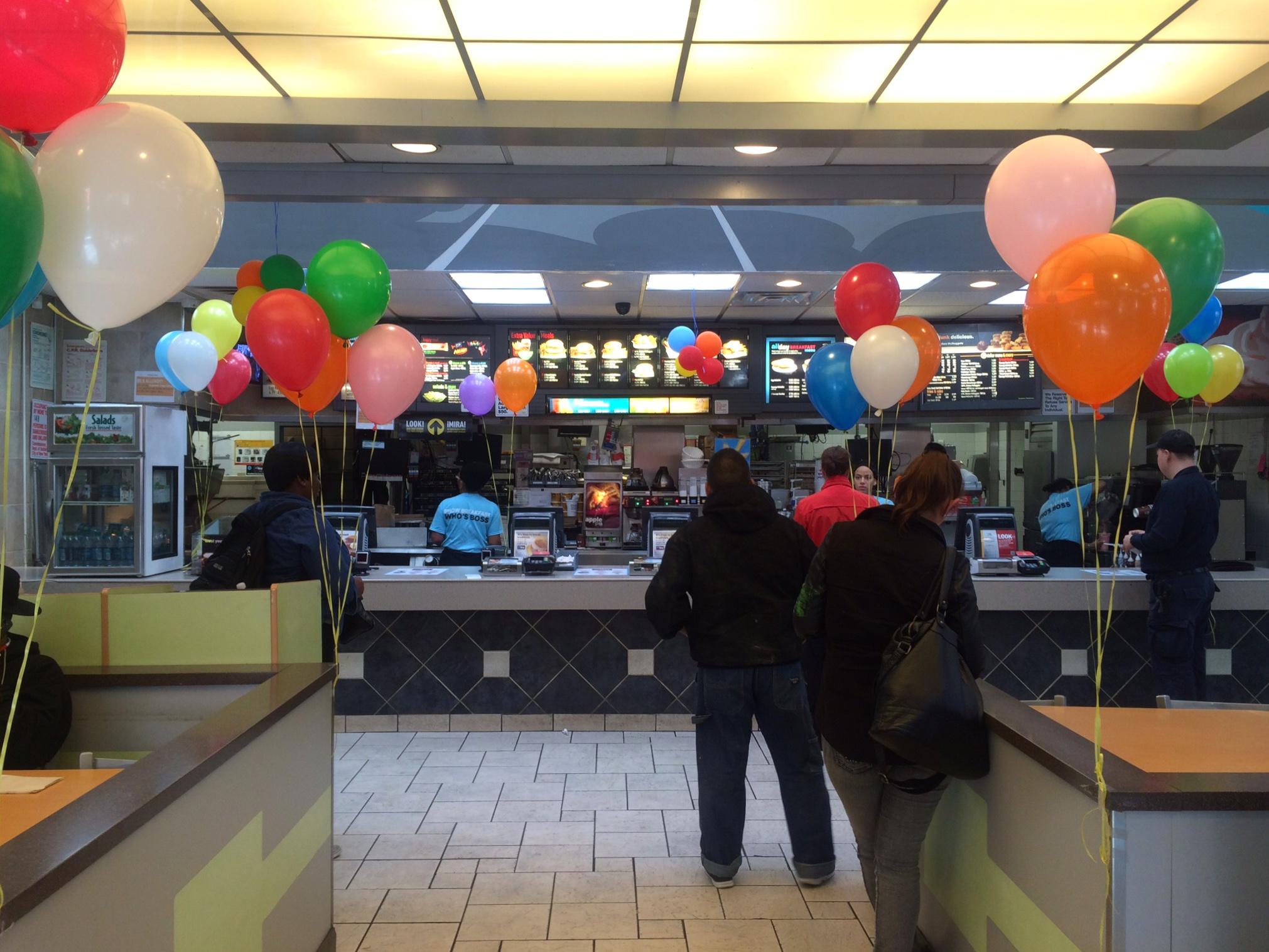 At the counter, I ordered a Sausage McMuffin With Egg as well as hash browns, which is when I learned that hash browns weren't available. That this might be the case was reported Monday by BuzzFeed, which explains that about 10 percent of restaurants will not offer hash browns once they begin serving fries for the day. The reason for this, per a former McDonald's franchisee, is that hash browns and french fries cook in the same fry vats and some stores don't have the capacity to accommodate both.
Another McDonald's breakfast favorite missing from the all-day menu: the savory and syrupy McGriddles.* Breakfast sandwich options will also vary by location. While most McDonald's in the U.S. are offering the Egg McMuffin family past 10:30 a.m., a cluster of states in the Southeast are carrying the biscuit versions instead (dubbed the "Biscuit Belt" by Nation's Restaurant News).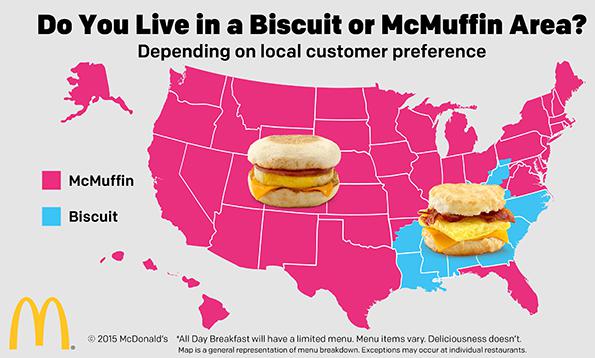 As momentous a day as this is for Egg McMuffin fans, it's a much bigger one for McDonald's. Over the past year, McDonald's has seemed at its wit's end for what to do about its flagging business. Globally, the company's same-store sales fell every month from June 2014 to June 2015, when it stopped reporting them altogether. In the U.S. things weren't much better, with same-store sales falling 11 out of the same 13 months. McDonald's brought in a MythBuster. It tried "Pay With Lovin'. " It hired a new chief executive and began selling an artisan chicken sandwich. None of that worked. With nationwide all-day breakfast, McDonald's is finally giving consumers something they've long wanted and requested. When the next few quarters' worth of earnings roll around, we'll know whether it did the trick.
*Correction, Oct. 7, 2015: This post originally misstated the proper name of McDonald's syrupy-sweet breakfast offering. It is the McGriddles, not the McGriddle.