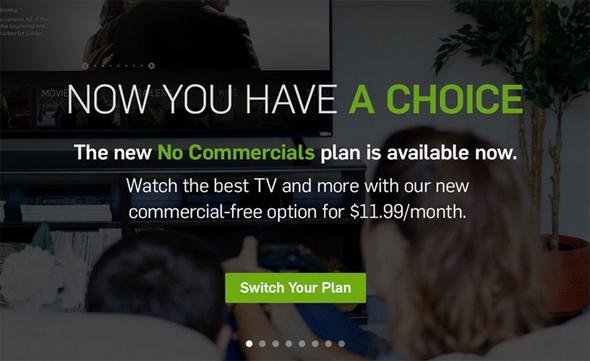 The most frustrating thing about Hulu has always been the ad structure, because even if you paid $7.99 per month for "Hulu Plus," you still had to watch ads. Compared with other monthly streaming options like Netflix (starting at $7.99 per month) and HBO Now ($14.99 per month), which don't show ads, this seemed like a raw deal. But Hulu is finally rectifying the situation … for a price.
Starting Wednesday, Hulu is offering a commercial-free subscription for $11.99 per month. The $7.99 plan will still exist, and Hulu notes that at this tier users still see "fewer commercials than scheduled television." But anyone who has watched the DailyBurn ad eight times in a row probably doesn't feel like they're being spared.
The New York Times reports that Hulu has roughly 9 million paid subscribers, compared with Netflix's 21 million in the U.S. In a press release, Hulu CEO Mike Hopkins said, "Many of our customers have asked us for a commercial free option."
It looks like Hulu has only mediocre movie additions for the month of September, but for people who have a bunch of favorite shows on Hulu, ad-free is going to be a big plus.

---