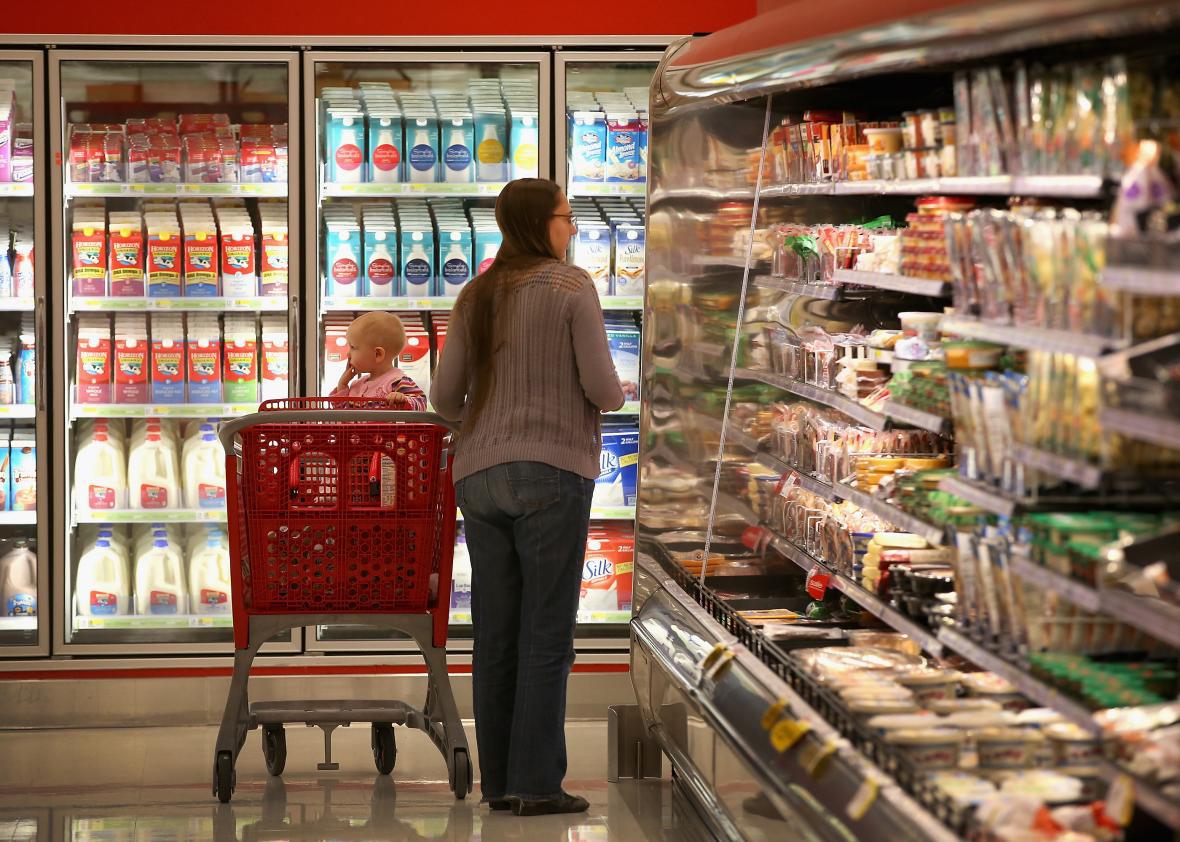 Target is gearing up to compete with Amazon in the business of grocery delivery. Per a report in Reuters, the company said Tuesday that it has partnered with Instacart, the grocery-delivery startup, as part of an effort to overhaul its food operations. Target's service will start at $3.99 per order and will include produce, household items, baby products, and pet supplies. It's slated to begin testing at stores in Minneapolis, where the retailer is headquartered.
Amazon's own grocery service, Amazon Fresh, offers free same-day or early-morning delivery on "thousands of everyday essentials" for orders of more than $50. It's currently available in metro areas including Seattle, Philadelphia, and New York City, as well as in much of California. Joining costs $299 a year, though earlier this summer Amazon opted to open Fresh to Prime members in certain markets for $7.99 per order. (If you're just interested in trying it out, this is probably a good option, but if you plan to use Fresh regularly it becomes cheaper to subscribe after your 37th order.)
Instacart, meanwhile, is probably the leading startup contender in grocery delivery—or at least the one that has succeeded in building its brand the fastest. Instacart users place their orders through the company's platform (usually its mobile app) and then wait for Instacart "shoppers" to assemble the groceries and drop them off. In January, Instacart closed $220 million in funding that valued it at $2 billion. By signing on with Instacart, Target is likely looking to jump-start its grocery operation with younger and more adaptable talent. Target's grocery division accounted for more than 20 percent of revenue in 2014, with roughly $18 billion in sales, and building it out is a priority for CEO Brian Cornell. Other companies that have already teamed up with Instacart for grocery delivery include Whole Foods and Costco.

Who else is in the burgeoning business for on-demand groceries? There are the longer-standing players like Peapod and FreshDirect. There's Walmart, sort of, which offers free same-day pickup for orders placed online. And also, sort of, Google, which offers some food items for purchase through its Google Express shopping partnerships with stores. Then there are slightly more niche players like Blue Apron, which delivers recipes and pre-portioned ingredients so you can cook without most of the prep work. Who will revolutionize online groceries, a $10.9 billion industry in the United States, first? We can only wait and see! But Target just made a big opening move.

---