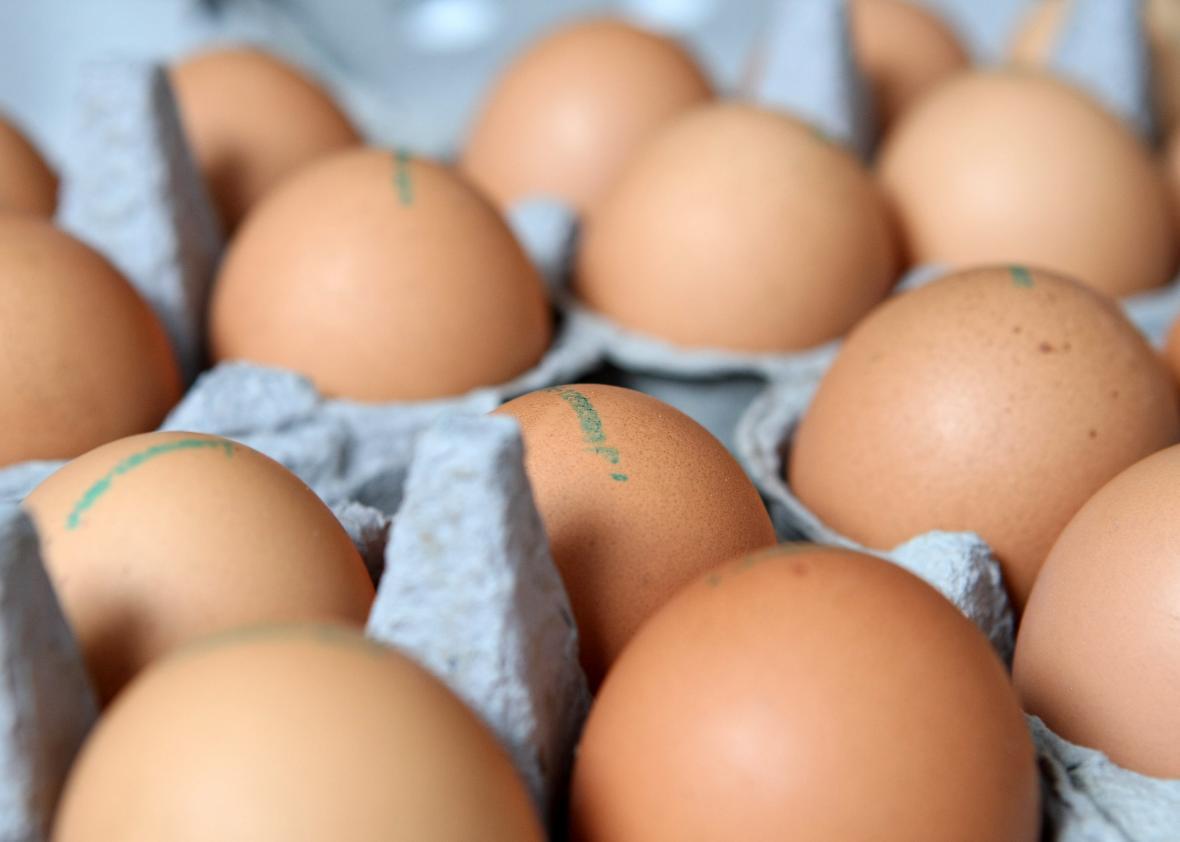 The road to becoming a "modern, progressive burger company" is a long one, but for McDonald's, which has fallen out of touch for reasons more serious than its eponymous and terrifying mascot, it is also a necessity. From June 2014 to June 2015, McDonald's sales declined every month globally and 11 of them in the United States. Advertising and even a transparency campaign with Grant Imahara of MythBusters fame were doing little to turn things around. So earlier this year McDonald's scrapped all that and set off on a fresh path to modern, progressive burgerdom—reshaping itself in line with today's always-on, health-conscious, socially minded consumer.
McDonald's is bringing us breakfast for dinner. It's phasing out antibiotics in chicken. And according to an announcement made Wednesday, it's also transitioning to cage-free eggs for all restaurants in the U.S. and Canada.
"Our customers are increasingly interested in knowing more about their food and where it comes from," McDonald's USA President Mike Andres says in a statement. Indeed! Such a realization has underscored the success of fast-casual chains like Chipotle, Shake Shack, and Five Guys, which have positioned themselves as better-quality alternatives to fast food at only slightly higher prices. McDonald's is behind on the times in arriving here, but hey, better late than never. Pledging to eliminate antibiotics important to human medicine was a good first step in this respect; serving up cage-free eggs in roughly 16,000 restaurants is a solid second.
McDonald's proposal, which it expects to implement over the next 10 years, comes as support for cage-free egg production has gained momentum with big food corporations and in legislatures. Burger King, Starbucks, and Nestle are among the companies that have either phased out or pledged to phase out the use of eggs from caged hens. California's Proposition 2, which bans the small wire confines known as battery cages, kicked in at the start of this year. Washington, Oregon, Michigan, and Ohio have cage laws scheduled to take effect in coming years; similar measures are on the ballots in other states. A severe and deadly outbreak of avian flu has also drawn more attention to how hens are held. In the highest-density farms, where "barns house up to half a million birds in cages stacked to the rafters," the virus can decimate 90 percent or more of a flock in just two days.
In short, America appears to be headed toward a full embrace of cage-free eggs. Even so, there's nothing quite like a commitment from McDonald's to accelerate that. Right now, less than 10 percent of America's hens live in cage-free conditions. But McDonald's alone purchases some 2 billion eggs annually—approximately 4 percent of all the eggs produced in the U.S. last year. To meet that kind of demand, it seems likely that more egg producers will shift over, and the current price premium for cage-free eggs could also fall. That's great news for your Egg McMuffin. But it's good for the average, omelette-eating American consumer as well.

---