PARIS—A little past midnight on a Friday night earlier this month, I waited on the silent, rain-soaked rue du Cherche-Midi for the door at No. 8 to swing open, hoping my name was really on the list. As I entered, the corridor smelled of baking butter crust, and the room where we left our coats was hung with two-dozen paintings of bread and lit by a chandelier made of baked dough. When Pierre Poilâne opened his bakery here in 1932, this was a neighborhood of artists, and they bartered their talent for his 4-pound loaves. The lighting fixture is a replica of one that Pierre's son, Lionel Poilâne, built with Salvador Dali in the '60s, when the artist ordered a room made of bread.
In a country with 35,000 bakeries, Poilâne is supreme. Its round sourdough miches, dough colored like cafe au lait, crust signed with a P, are flown every morning to aficionados around the world. Shortly after 12:30 on Saturday morning, Lionel's daughter Apollonia Poilâne, the 31-year-old scion of the family business, led a dozen visitors down a steep flight of stone stairs to the vaulted underground baking chamber. A baker was cutting out the dough for the morning's first batch. Poilâne released a set of metal catches and opened the wood-fired oven, which has the footprint of a small bedroom. It burns every minute of the day, every day of the year.
The occasion for our visit was an annual weekend festival, European Heritage Days, for which tens of thousands of typically inaccessible sites across the continent open to visitors. Like Poilâne, it is a French export; the event began here in 1984. And as with Poilâne, there's no place to appreciate it like Paris.
Here, European Heritage Days is the rare citywide event that has no chief sponsor, no laminated VIP passes, and no economic justification. Rather, its aims are spiritual—which makes it hard to gauge its success. In France at large, the French minister of culture reported that 17,000 sites opened their doors this year, mostly for free, to 12 million people—a fifth of the country. In Paris, the participation rate is surely lower because there's so much else to do. On that Saturday, the annual Techno Parade, which drew 300,000 revelers, was much more conspicuous.
But it's here, in a city where belonging sometimes seems like a function of geography, that this eclectic ritual of access reaches its greatest scale and depth. You could summit the great arch of La Défense in the business district west of the city, see a mural painted in the city's northern suburbs, or tour Renzo Piano's "glass armadillo," built for a film foundation, near Montparnasse. How many open doors does it take to dispel the notion that a city, with its onion layers of prices and prohibitions, does not belong to you?
The name Heritage Days sounds didactic and old-fashioned, like an after-school program for French middle-schoolers. And indeed, it began with a kind of foundational cultural roster of places: palaces, churches, museums, monuments, and government buildings. Turning open the gates to these sanctums certainly has an allegorical, French-Republican appeal. But in my experience, seeing the great landmarks has much in common with the French writer Émile Zola's description of a working-class wedding party visiting the Louvre: "How many statues! How many pictures! They wished they had all the money they had cost. … When they were outside they uttered a sigh of relief as they put up their umbrellas once more, but one and all affected great pleasure at having been to the Louvre."
Yet the scope of the event has broadened considerably in three decades. To try to find its pulse, I charted a course through some of the city's quirkier offerings. On Saturday morning, I traveled to the southern suburbs to see the machine that washes the Parisian Metro trains. It was the first time visitors had been allowed to walk on the tracks; we were the first tour of the weekend. I pointed out to another participant that we were the first people in Paris, then, to enjoy a public visit onto the subway tracks. "The first people in France," she said happily.
If access to Poilâne had rewarded my sense of wonder with the implication that every ordinary façade in this city might conceal treasure like the world's largest bread library, the train-washing machine did the opposite: It replaced my image of fantastic underground machines with something very familiar. The train-washing machine looks a lot like a car wash with rails.
Revealing the mundane, though—the monotony of wealth, the simplicity of back rooms—might be a more important civic initiative than uncovering mysteries. In American cities, never replete with public space, the effect would be particularly transcendent. An event like this one, in Houston, Chicago, or Los Angeles, would thrive not just by showing citizens a glimpse of their city's glimmering secret stores, but also by proving that a place's hidden contours (corporate, cultural, social, mechanical) are knowable and even familiar. The lure is amazement, and perhaps a great Instagram opportunity, but the stronger feeling is the comfort of understanding what's around you. Sometimes, you know what's behind all those closed doors. You just don't know that you know.
The 180 spots to ride through the whirring brushes of the train wash, along with the rest of the public transit system's open-door tickets, had all been reserved within minutes of their online release. "Almost every year I try to do something, take advantage, see something that's not usually open," explained Valerie Seren, a fellow visitor. Her friend Bertrand Olivier, who had vigilantly watched the ticket website, was also planning to tour the Metro's signal system and visit a tramway tunnel near Versailles. The two of them were thinking about going to a scavenger hunt at the Gare de Lyon later that day.
The event rewards people like Olivier most. Free tickets to climb the Gare de Lyon's clock tower or tour the new Frank Gehry–designed museum for Louis Vuitton, had vanished well before the weekend. Other events, like a visit to the Elysée Palace, where President François Hollande lives (and another spot on the Poilâne delivery routes), were first-come, first-served and featured long lines.
Weirder fare was readily accessible. That afternoon, I went to see the "garden city" of Pré-Saint-Gervais, an expansive, suburban social housing project begun in 1928 and completed in 1952. Designed by the architect Henri Sellier after the utopian theories of the British planner Ebenezer Howard, the cité-jardin is a vast landscape of low-slung brick-and-concrete buildings—1,200 apartments and 56 houses—set into parks and playgrounds. But Sellier's attention to detail, such as in the alternating patterns of brick, gives the district a varied and organic vibe. It bears no resemblance to the maligned post-war projects of the "93," north of the city.
In a gallery on the main street, I received a 12-page guide explaining Sellier's vision and execution of the project. I stopped to wait in a short line to enter a darkened, 17th-century vault that channeled the water of four suburban springs toward Paris. Our guide's lecture dissolved in echoes from the damp, candlelit stone.
The cité-jardin, unlike many public housing projects in the United States, works in concert with a normal street network, and much of its street frontage is designed for commercial use. Several years ago, facing a number of vacancies, the city decided to open those spaces up to artists and galleries. The eight of those storefronts were holding open houses on Saturday afternoon.
I stopped into the sunlit studio of a sculptor named Serge Barto. Some of his friends and neighbors had gathered around a bottle of wine, and they offered me a glass. Like any self-respecting urbanites, Parisians like to complain about their city. As for the Heritage Days, one of them explained, "If you've seen one palace you've seen them all." But each of them had, despite their reservations, used the opportunity, in one year or another, to access other parts of the city, like the compressed air plant that powered the old pneumatic tube mail network (now an architecture school) or a nearby factory converted into a bank office.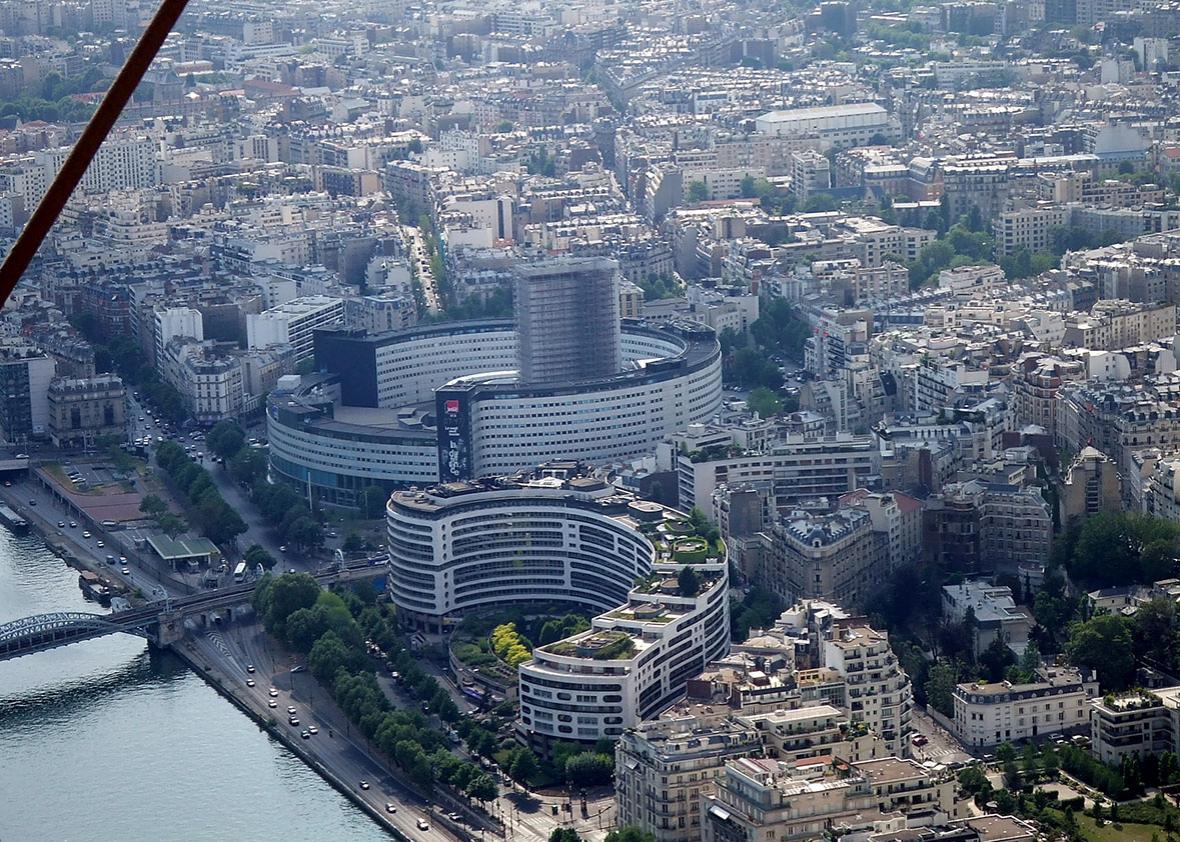 So one man's workplace became another's Saturday afternoon adventure, and the essential urban paradox—the dizzying distance between the lives of people who stand in physical contact for 30 minutes on the train every day—momentarily dissolved. Perhaps a banker visited the architecture school, and an architecture student stepped into Sellier's social vision mounted on the gentle hills of Pré-Saint-Gervais.
My last stop on the tour was the following afternoon, at the enormous, horseshoe-shaped headquarters of Radio France in the city's 16th arrondissement. Families buzzed about the ground for a scavenger hunt, and dozens of people waited in line for tours.
I was going to a concert in the new auditorium, a spherical theater of wooden balconies that looks like an inverted pinecone. I had reserved my spot online a few days before, but tickets remained. One of the managers was handing them out like coupons on the sidewalk in front of the entrance. "Do you like piano music?" she asked the passersby. "Would you like to see a concert?" Most of them did.