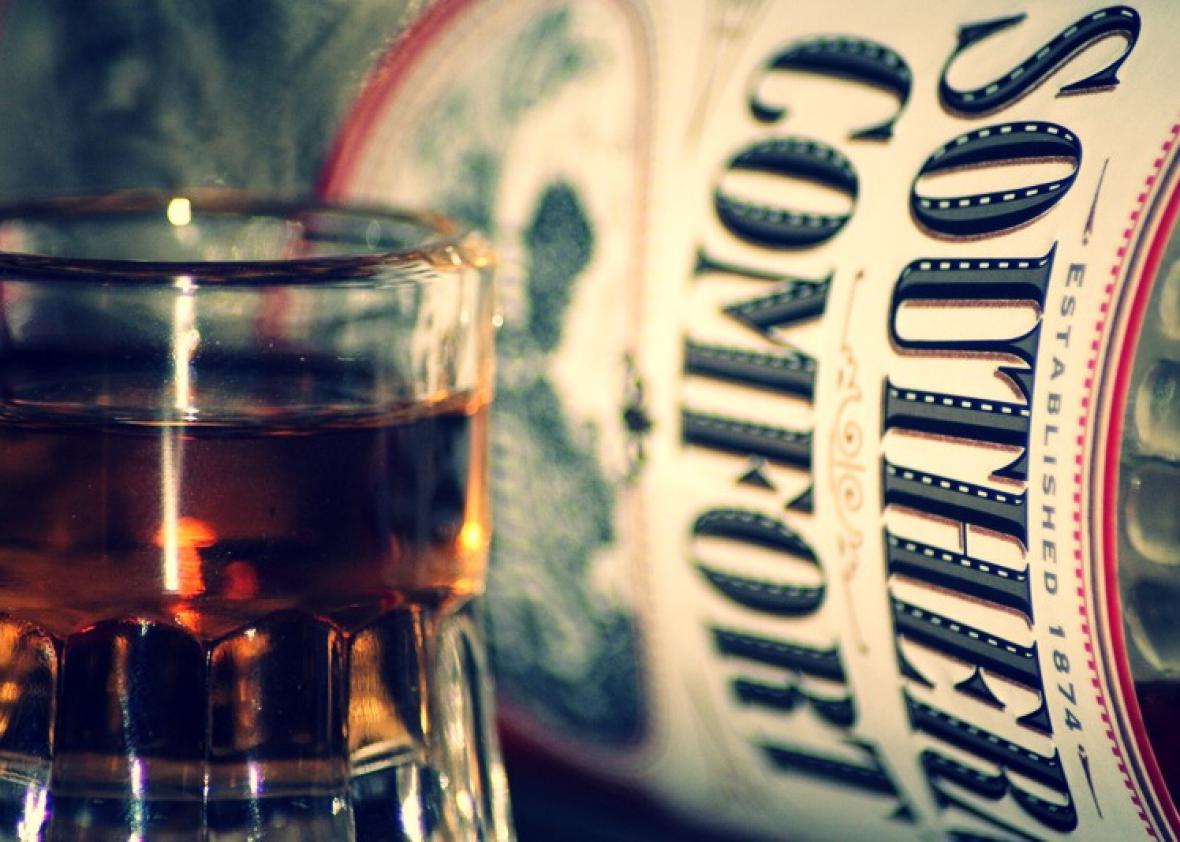 Southern Comfort, the sticky sweet liquor more fondly known as SoCo, may be in need of a new home. Brown-Forman Corp., the Louisville, Kentucky–based company whose holdings include Jack Daniel's and Woodford Reserve, is reportedly exploring the sale of SoCo. Per Reuters, Brown-Forman has hired Goldman Sachs to look into selling off SoCo, Chambord, and possibly other brands that collectively "could be valued in the hundreds of millions of dollars," according to a source.
Why does the maker of Jack Daniel's want to part ways with Southern Comfort? To "focus on its core whisky business," sources tell Reuters. When Brown-Forman released first-quarter results in late August, the company pointed to its whiskey portfolio as a key driver of sales. Paul Varga, Brown-Forman's president and chief executive officer, pointed out on a call with investors that sales of Jack Daniel's Tennessee Whiskey in the United States that quarter topped 5 million cases for the first time. "This is a very high level of consumer acceptance achieved by very few brands," Varga said. "Add to this the fact that Jack Daniel's is priced at the super premium price level—well above the price of most brands that have achieved the 5 million case level—and the recent milestone is even more rare and impressive."
Other recent highlights for Brown-Forman have included Jack Daniel's Tennessee Fire, which added almost three percentage points to underlying sales growth in Q1, and Jack Daniel's Tennessee Honey, which increased underlying sales by 18 percent. Southern Comfort's performance during the same period, by contrast, was lackluster; underlying net sales fell 4 percent across the brand. "There is just a large number of new entrants in flavored whiskey," Varga said back in August. "So that's something we've been adjusting to a bit." The world "doesn't just sit around idle and look at how Brown-Forman is performing," he added. "And so we feel competitive pressures from companies that are simply striving to do better out in the marketplace."
Translation: Jack Daniel's is still doing well because the world has figured out it would like to drink whiskey that tastes like the actual thing. Jack Daniel's flavored whiskeys are doing well because they're new and exciting and attached to the core Jack Daniel's brand, as opposed to the tired Southern Comfort label. From that vantage point, it makes sense that Brown-Forman would want to let SoCo go; if flavored Jack Daniel's options keep taking off, they can essentially replace SoCo's role in Brown-Forman's portfolio. And if people's tastes keep moving to whiskey that tastes even slightly better, losing SoCo probably is for the best.

---