Shake Shack is the new fast-casual darling of Wall Street. The stock jumped more than 12 percent in after-hours trading on Monday after the company beat expectations on profit and same-store sales. It's continuing to trade up about 9 percent after closing down slightly at $70.64 during the day's normal session. You can see the pop from the earnings announcement here: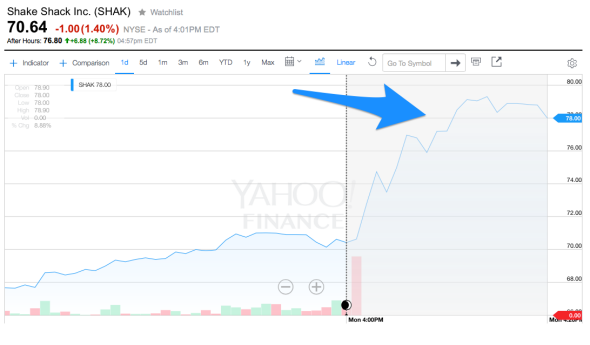 It was the first time Shake Shack turned a quarterly profit since going public at the start of the year, with net income of $1.1 million. But the bigger news was same-store sales, or "same-shack sales," to use the company's preferred cutesy term. Shake Shack said sales at the 16 restaurants it's had open for 24 months or longer increased 12.9 percent in the second quarter. That solidly topped the roughly 9 percent increase that analysts were anticipating, as well as the low- to mid-single digits growth that the company had predicted for the current fiscal year.

Same-store sales numbers like that look good by almost any measure. But to get a better sense of just how good they are, compare them with those posted by Chipotle, a longtime Wall Street favorite, during its epic run in 2014. In the first quarter of that year, Chipotle reported same-stores sales growth of 13.4 percent. Over the following three quarters, its sales figures rose between 16 and 20 percent. The streak was so strong that this year Chipotle has struggled to keep up with itself, which makes it all the more impressive that Shake Shack has now overtaken the burrito chain for the past two quarters in posting big same-store sales metrics.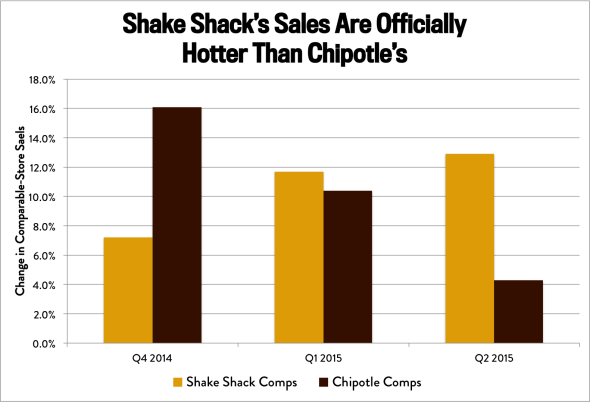 To be fair, Shake Shack is a smaller, less mature chain than Chipotle, which in theory makes it easier to record those huge figures. Still, it's a nice boost for the company. Shake Shack is accelerating development of new locations in 2015, with plans to open 12 instead of a previously announced 10 domestically as well as at least five restaurants internationally. It's also increased its same-store sales outlook for the rest of the year to mid- to high-single digits (from low- to mid-single digits). Projections for total revenue are higher too. And overall, the stock is up 236 percent from its IPO price of $21. Happy burgering!