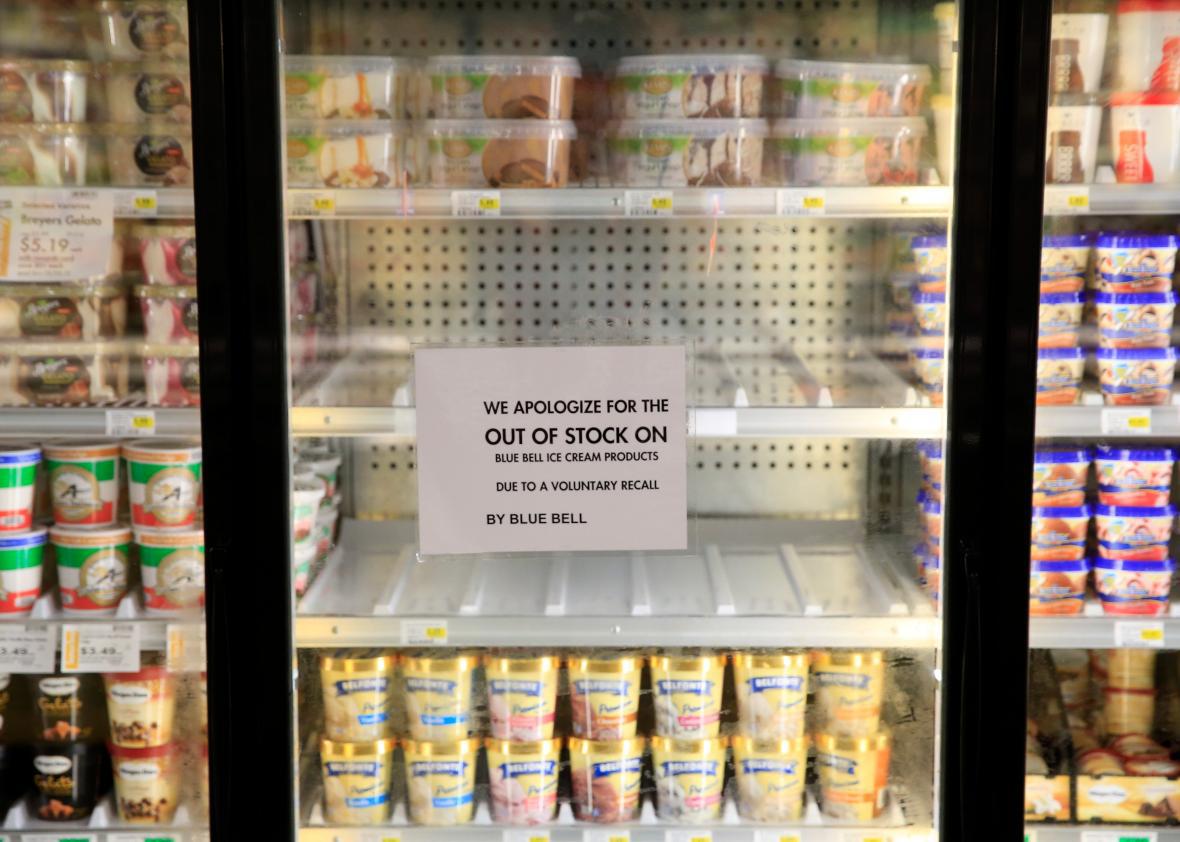 Just three months ago, Blue Bell Creameries looked done for. A listeria contamination scandal had led the company to halt production at factories, pull all its products from shelves nationwide, lay off 1,450 employees, and furlough another 1,400. It was the worst public relations crisis in Blue Bell's 108-year history. The brand's listeria-tainted ice cream products were linked to three deaths and at least two illnesses. In early May, the U.S. Food and Drug Administration released a damning report that said Blue Bell had "strong evidence" listeria was present in one of its plants since early 2013. Blue Bell, the company's CEO let it be known, was "heartbroken."
Then, in mid-July, just as it seemed like Blue Bell might never sell a scoop of vanilla ice cream again, much less a Mooo Bar, a billionaire oil tycoon swooped in with a "significant" investment to keep the company afloat. That money is being used to rehire some of Blue Bell's staff (about 200 are running a factory in Alabama and another 42 are returning from furlough soon), as well as to make health- and brand-image-rehabilitating investments. Blue Bell is upgrading its plants and hiring a team of microbiologists to review its safety procedures. On Tuesday, the company began shipping ice cream from its Sylacauga, Alabama, facility for the first time in more than three months.
Shipping, of course, is one thing. Getting consumers to trust and buy your products shortly after a dangerous bacteria crisis is quite another. Blue Bell has the advantage of being a beloved brand in the South, particularly in its home state of Texas. "I'm not going to be afraid to continue eating it," one fan told the Houston Chronicle in April, as she and her 4-year-old daughter polished off several cups of Blue Bell ice cream from a plant that had already been linked to the listeria outbreak. Nationwide though, that keen-bordering-on-foolish devotion will likely be harder to replicate, and as the fifth-largest ice cream maker in the U.S., Blue Bell can't afford to ignore the broader American consumer.
So far, grocery chains Kroger and Publix have expressed interest in restocking Blue Bell products, provided they're declared safe. But putting the containers on shelves isn't the same as convincing skeptical shoppers to buy them. I wouldn't blame America if it had a hard time forgetting that Blue Bell's Oklahoma plant tested positive for listeria on equipment and in products 16 times (16 times!) between March 2013 and January 2015—long before it had shut down anything, or pulled any ice cream from shelves. Seriously, yikes. Even generous lifelines from oil tycoons can only do so much to fix that.

---