Alibaba, China's equivalent of Amazon plus eBay plus Paypal plus insert-other-giant-Internet-companies-here, reported earnings for the quarter ending June 30 on Wednesday. Investors were hoping for some good news that might help Alibaba reverse a slide in its stock price that's lasted for more than two months. But alas. While Alibaba narrowly beat expectations on earnings (with adjusted earnings per share of $0.59 versus an expected $0.58), revenue was light and a few key metrics showed that the company's once-insane growth is starting to slow. Shares tumbled more than 7 percent after the morning bell.
Let's look at two of those important company metrics. Most of Alibaba's revenue comes from what sales merchants make on its online shopping platforms, which include consumer-to-consumer destination Taobao and merchant-to-consumer site Tmall. Alibaba takes commissions and fees on these transactions. To measure the health of its e-commerce marketplaces, Alibaba looks at two main things: annual active buyers and gross merchandise volume (basically, the total value of stuff sold over a certain period of time). In the lead-up to its September 2014 initial public offering, Alibaba's year-over-year growth in both of those categories kept going up. But lately—and especially in the most recent quarter—those growth figures have dropped off. You can see that in the two charts below: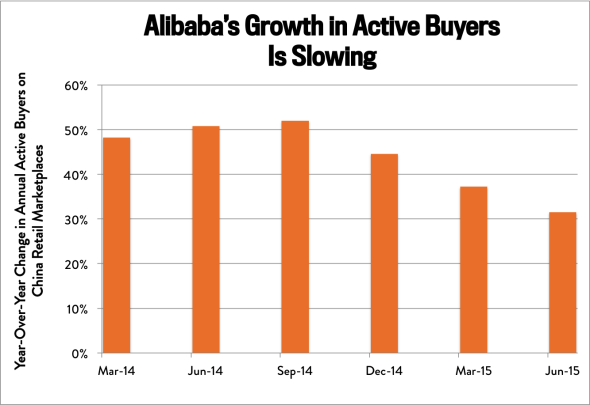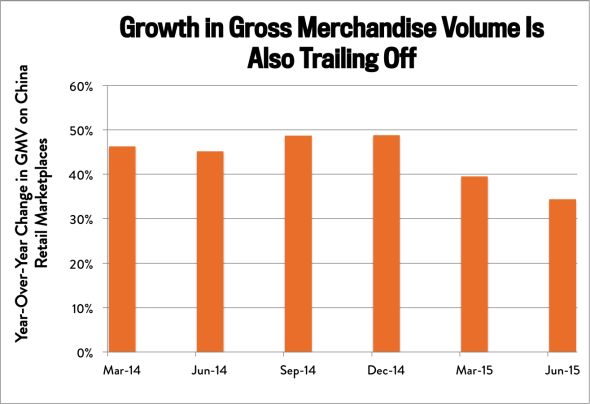 What's causing this deceleration? At the macro-level, Alibaba is struggling to perform in a lagging Chinese economy. China has recently released a string of weak economic numbers and could likely miss its stated annual growth target of 7 percent. On Wednesday, the People's Bank of China also devalued the yuan for the second consecutive day, pushing shares lower globally on fears that the nation's economy is doing worse than had been widely acknowledged. Alibaba has been caught in this economic turbulence. Its stock has fallen about 17 percent since late May and is off about 35 percent from the highs it reached in November 2014, shortly after IPOing.
More particular to Alibaba, the company is attempting to combat a slowdown in the growth rate of Chinese Internet users, as well as ongoing concerns about the authenticity of goods sold on its platform. In late June, Alibaba announced a joint venture with online payments service Ant Financial for "capturing opportunities within China's local services market." And earlier this week, Alibaba said it was investing $4.63 billion for a 20 percent stake in Suning, a major Chinese consumer electronics retailer, in an effort to further integrate "digital and offline retail." Under the deal, Suning will open a store on Alibaba's Tmall marketplace, and Alibaba will gain access to Suning's extensive delivery and logistics network.
On the bright side for Alibaba, the latest quarterly report indicated one area where growth is still picking up. Mobile GMV as a percent of overall GMV increased to 55 percent. Maggie Wu, the company's chief financial officer, said Alibaba made "significant progress" in monetizing its mobile traffic. If only it could use that progress to turn around its broader financial performance, as well.