The opinion section of Monday's New York Times features a byline from Howard Schultz, chief executive of Starbucks, and his wife, Sheri. The piece, "Connecting Young People With Jobs," opens with the gut-wrenching anecdote of Carmen Williams, a "pigtailed toddler" who was abandoned by her mother at age 5, who was orphaned on the streets by 13, and who bounced around to more than a dozen foster homes after that. "Despite these hardships," the Schultzes continue, "Ms. Williams, now 21, was the salutatorian as well as the prom queen of her graduating class last year at the charter school, YouthBuild Philadelphia, part of YouthBuild USA, which provides college prep and job training and puts young people to work rebuilding houses. Today, she attends the Community College of Philadelphia and works as a barista and a barista trainer at a local Starbucks."
This is the introduction to the 100,000 Opportunities Initiative, a new effort from Starbucks, the Schultz's foundation, and more than a dozen other big U.S. companies to help America's underserved youth gain jobs and careers. Over the next three years, Starbucks and its partners—among them CVS Health, JPMorgan Chase, Lyft, Taco Bell, Target, and Walmart—say they will provide at least 100,000 "opportunity youth" with apprenticeships, internships, training programs, and part- or full-time jobs. The Schultz Family Foundation is putting $30 million behind the initiative, while Starbucks had previously committed to hiring 10,000 young adults between the ages of 16 and 24 by 2018. "By using our scale to create pathways to affordable education and meaningful employment for these young men and women, we're strengthening both our workforce and our economy," Schultz says.

America's high youth unemployment isn't a new story. Last July, Elisabeth Jacobs of the Washington Center for Equitable Growth told NPR that the 5.8 million young people in the U.S. who were neither in school nor working risked becoming a "lost generation of workers." Unemployment among those 16 to 19 years old peaked at 27.2 percent in October 2009 and again a year later. Since 2013, it's begun to decline, but the recovery has been slow and 18.1 percent of those teenagers remained unemployed as of June. As you can see below, that's more than three times the unemployment rate for all civilians, which stands at 5.3 percent: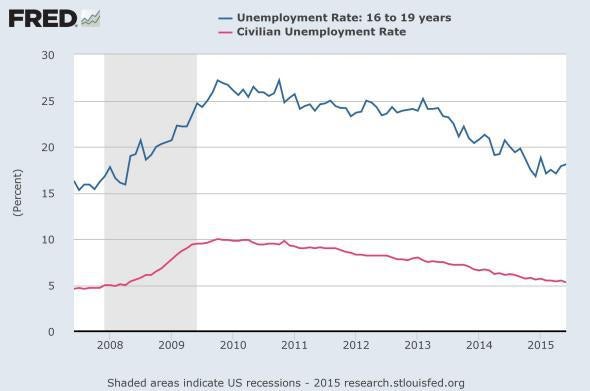 With so many young people already out of school and work, helping 100,000 will barely put a dent in the country's unemployment statistics. On the other hand, 100,000 in three years isn't an insignificant number. Job Corps, one of the largest government-administered career and education programs in the U.S., trains about 37,000 young people each year.* The Schultz-led project will nearly match that pace, with about 33,000 young people getting career opportunities each year if the efforts are evenly distributed. "This is not charity. It solves a real business problem," the Schultzes write in their op-ed.
It also seems like a genuinely decent move, and a smart focus for Starbucks, which recently has had a mixed record when it comes to melding its business with its chief's progressive ideals. While the company's #RaceTogether campaign was a full-blown disaster, youth achievement programs are where it has historically excelled. Last year, Starbucks introduced plans to help employees get an affordable college degree from the online bachelor's program at Arizona State University. In April, the company said it would seriously expand that initiative, investing $250 million to offer full tuition coverage to more than 140,000 eligible full- and part-time workers by 2025. (Disclosure: Slate collaborates with ASU and New America on Future Tense.) The stereotype of the upwardly mobile Starbucks barista isn't perfect, but it's something. And as far as corporate social responsibility goes, there are a lot worse ideas than putting 100,000 of America's low-opportunity youth on the path to careers.
*Correction, July 13, 2015: This post originally misidentified the program Job Corps as Jobs Corp.