McDonald's franchisees have the dimmest outlook for their company in 12 years. According to the July edition of a franchisee survey conducted by analyst Mark Kalinowski, franchisees gave McDonald's an average rating of 1.69 out of 5 for its six-month business prospects in the U.S. That's well below the survey's historical average of 2.7 and also decently lower than the previous worst of 1.81.
The survey, which included 29 domestic respondents who own and operate more than 200 restaurants, also predicts that McDonald's same-store sales for the U.S. will fall another 2.3 percent in June. That would mark the fifth consecutive month of domestic sales decline for the Golden Arches, as well as nearly two years that sales in the U.S. had either decreased or remained essentially flat. McDonald's is due to report same-store sales for June—the last time it will provide those figures on a monthly basis—later this month.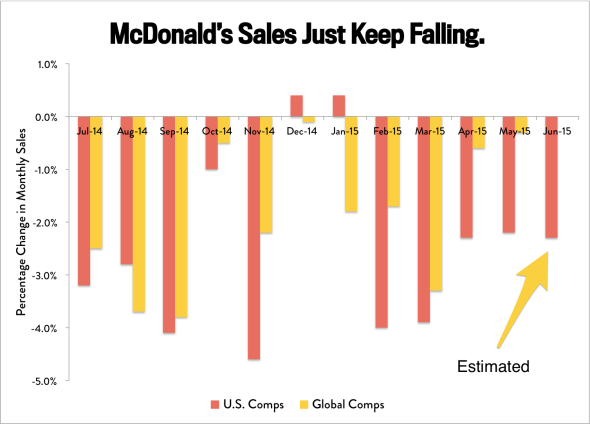 Not surprisingly, the franchisees surveyed didn't have much positive to say about the company's recent performance. "There is nothing on the menu that excites our customers," says one. "Corporate has no answers. They are throwing ideas at the wall hoping something will stick," responds another.
It's easy to see how they would think that. Since McDonald's kicked off another round of turnaround efforts under the leadership of chief executive Steve Easterbrook earlier this year, the chain has announced a hodge-podge of initiatives for bringing customers back to stores. McDonald's is testing all-day breakfast, customized burgers, and an artisan chicken sandwich. It has also increased hourly pay for U.S. employees at company-owned stores (so, not franchises), and of course plans to focus on longer-term financials with the elimination of its monthly same-store sales reporting practices.
But the real cornerstone of the turnaround plan Easterbrook laid out in May—if you can call it that—was actually the franchisees themselves. "We're a franchiser, and that has always been part of the essence of what's made McDonald's successful," Easterbrook said at the time. "I've a strong philosophical commitment behind franchising, I think it's incredibly important to our business." The hope is that handing more control to franchises will spark new enthusiasm and energy in McDonald's stores. It's a nice idea in theory. If the Kalinowski survey is any indication, though, McDonald's has a long way to go before franchisees are ready to trust it again.