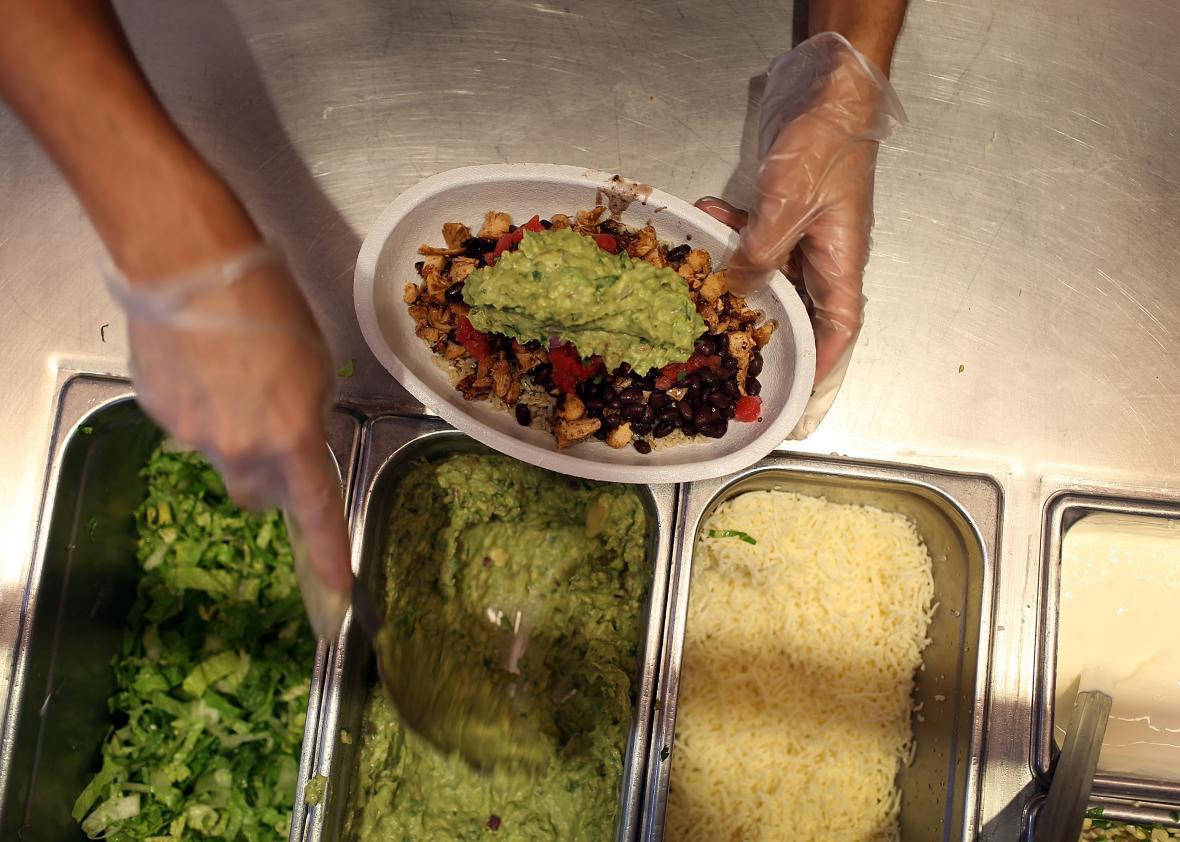 When Chipotle greeted investors to report earnings for the second quarter of the year on Tuesday, attention immediately flew to the company's comparable sales (for stores open at least 13 months), which were up 4.3 percent. For a lot of restaurants, that would be something to celebrate. When KFC and Taco Bell reported fourth-quarter comps growth of 4 percent and 7 percent respectively earlier this year, those figures qualified as "strong." McDonald's, which has watched same-store sales fall globally for the last year, would be thrilled with a 4.3 percent comps increase.
But not so at Chipotle, where a 4.3 percent comp isn't just not good—it's pretty bad. Over the past two years, it's the lowest comp that Chipotle has reported in any quarter. The company also said it expects low- to mid-single-digit comps to continue for the rest of the year. That looks particularly rough against the stellar figures that Chipotle posted in this category throughout 2014 and into the first quarter of 2015, all of which were in the double digits: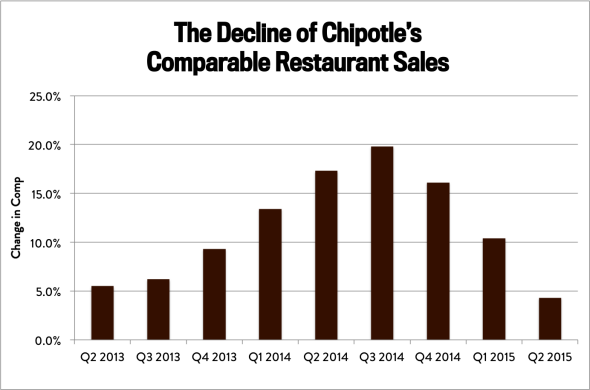 Chipotle's management realizes that it's having a tough time measuring up against itself, and has been trying to reassure analysts and investors on this point. "[2014] was a great year in that we delivered double-digit comps growth that have provided a tough target for this year," Chipotle co-CEO Monty Moran said on the call. Other execs echoed this sentiment and tried to deflect focus away from the comps figure by touting various Chipotle milestones: the company's (highly questionable) move away from GMO ingredients, its commitment to "food with integrity" in the face of a carnitas crisis, its promotions of in-store crews.
Somewhat miraculously, Wall Street seems to be buying this explanation. After Chipotle's stock plunged about 8 percent on an initial reaction to its earnings numbers, it slowly rose back to its closing price of $673.07 during the call and is now trading slightly up. Good job, guys!
Other tidbits from the earnings announcement: Chipotle's revenue was up $1.2 billion, or 14.1 percent, from the second quarter of 2014. Profit rose $140.2 million, or 27.1 percent. Chipotle also increased menu prices nationwide over the past three months, causing the value of the average customer check to rise as well. And finally, there's good news on the avocado front, which is a perennially touchy subject for burrito fans. Chipotle says food costs declined slightly in the latest quarter, in part because of higher menu costs, and in part because of "relief in dairy and avocado prices."

---