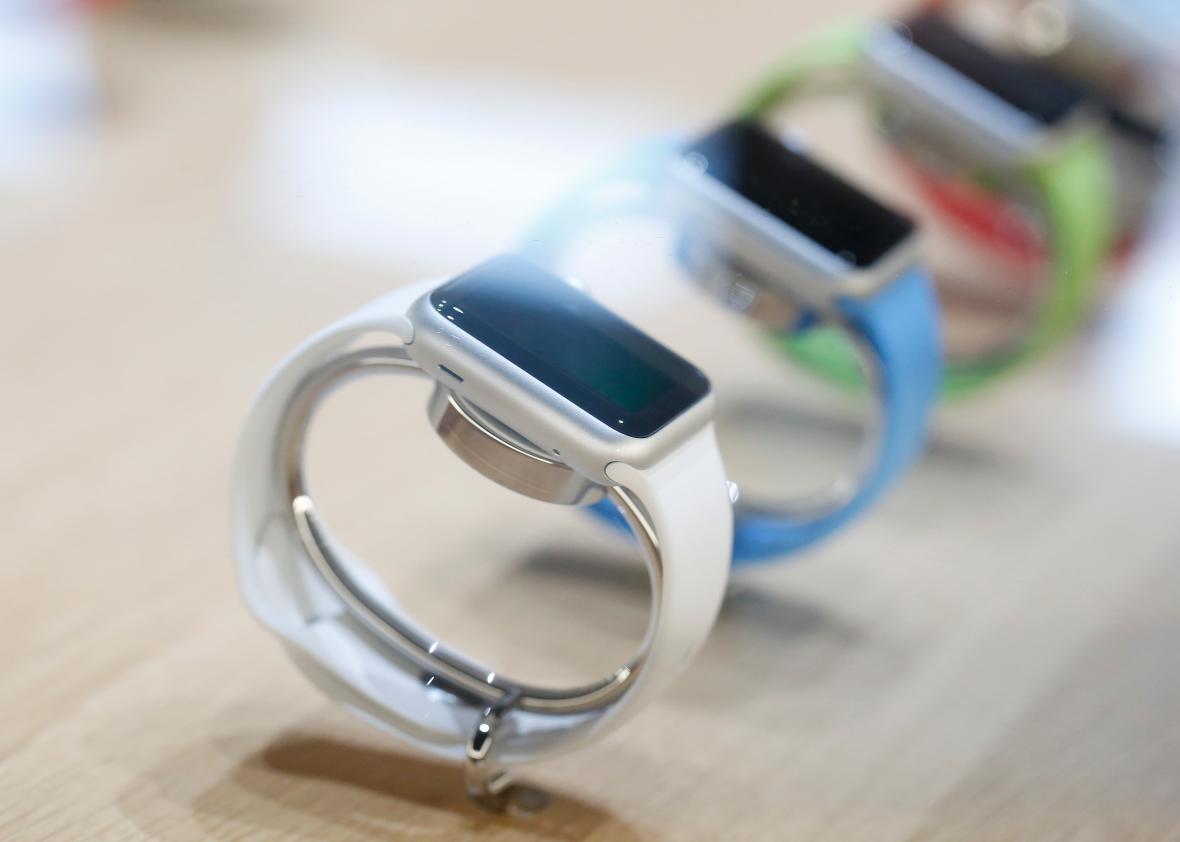 On Tuesday, Apple reported its earnings for the first time since the Apple Watch went on sale in April. It's the first major new product in five years from the world's most valuable company, so people were understandably interested to learn how it's selling. Apple, however, was not interested in sharing that information.
Rather than report Apple Watch sales and revenue directly, as it does with the iPhone, iPad, and Mac, the company buried them in a category called "Other Products." That category—which also includes Apple TV, Beats headphones, iPods, and various accessories—accounted for $2.6 billion in revenue in the quarter that ended on June 27. So we know Apple Watch sales were less than that.
How much less? That's hard to say. The $2.6 billion figure for the latest quarter was up about $950 million from "Other Products" revenue the quarter before, and about $850 million* from the same quarter last year. But Apple CEO Tim Cook cautioned against concluding that the Apple Watch made only that amount of money. Sales of iPods and accessories were down in the most recent quarter, he noted, so Apple Watch sales were actually greater than $1 billion.
OK, but how much greater? Again, hard to say. The company's CFO, Luca Maestri, told the Associated Press that Apple Watch revenue was "well over" $950 million, but he didn't say how well over. It's safe to assume that revenues were less than $2 billion, however, unless everything else in the "Other Products" category tanked all at once.
Even if we knew how much Apple made from its watch sales, we wouldn't know how many watches it sold. The device ranges in price from $349 for the cheapest "Sport" edition to upward of $1,000 for stainless steel versions. Here, too, Apple was cagey. "Sales of the watch did exceed our expectations," Cook said, and they did so despite demand exceeding supply for most of the quarter. Maestri added that Apple sold more watches in the device's first nine weeks than it sold iPhones or iPads in their first nine weeks on the market. That sounds like a good sign for the watch's future, although expectations for Apple are rightly much higher today than they were in 2007 or 2010.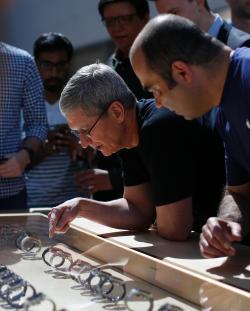 By the end of Tuesday's earnings call, Cook had gone to almost comical lengths to describe the watch's sales performance without actually disclosing it. The watch, he averred, is off to "a great start"; "we felt really great about how we did"; there was "very good news on sales"; "I feel fantastic about what the team has done and delivered."
So why not just tell the world the great news, Tim?
"That was not a matter of not being transparent," Cook clarified helpfully. "It was a matter of not giving our competition insight on a product that we've worked really hard on." How exactly "not giving our competition insight" differs from "not being transparent," Cook did not explain.
All we can say for sure at this point is that, at somewhere between $1 and $2 billion, Apple Watch revenues are a drop in the bucket compared with those of the company's more established devices. For comparison, the iPhone made $31 billion in the most recent quarter, the iPad $4.5 billion, and Macs $6 billion.
Investors on the earnings call let a few notes of annoyance creep into their voices as they pressed for more Apple Watch details, but they didn't push too hard. It was yet another strong quarter for Apple overall, driven by a 35 percent increase in iPhone sales over the same quarter last year and a 38 percent rise in profit. Those numbers disappointed some bulls, as the stock dipped 6 percent after the market's close, but they're hardly cause for concern. That said, some more concrete good news on the Apple Watch surely would have helped.  
The watch might well take off in the coming months; Cook predicted it would fly off the shelves this holiday season. If it does, you can bet Apple will decide that providing those impressive sales figures is worth the risk of giving the competition insight after all. And if it doesn't? Get ready for a lot more parsing of that "Other Products" category.
*Correction, July 22, 2015: This post originally misstated the year-over-year revenue increase in Apple's "Other Products" category as $850 billion. It was $850 million.

---