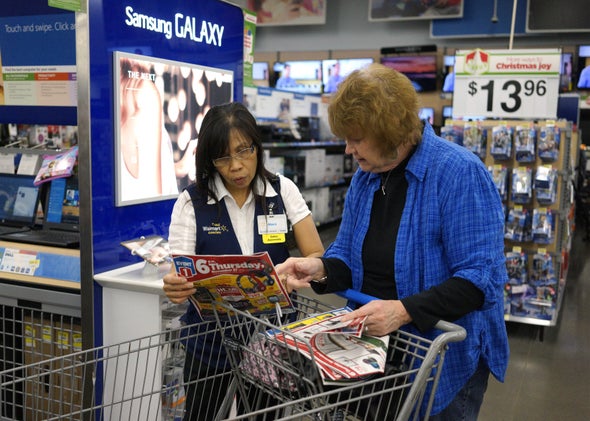 Earlier this year, Walmart wrote a $1 billion prescription for its empty shelves, long lines, and other chronic Walmart problems: It reorganized its staff, and gave it a raise. In April, the first phase of that treatment kicked in, with roughly 500,000 of the company's entry-level and long-term associates getting their pay bumped up to a minimum of $9 an hour. Now more raises are rolling out, this time to 100,000 U.S. department managers and specialized workers, like the associates who sell wireless devices or run the deli. From the Associated Press, which has the full breakdown:
Wal-Mart told The Associated Press late Monday that department managers of complex and service-oriented jobs in areas like produce, electronics and auto care, will start at $13 per hour and top out at $24.70 per hour, beginning next month. Starting next February, they will be paid at least $15 per hour. Previously, the pay range was from $10.30 to $20.09. Meanwhile, those managers of less-complicated departments like clothing, and consumer products like paper towels and luggage, will earn from $10.90 to $20.71 per hour. Previously, they earned from $9.90 to $19.31.
Meanwhile, on the reorganization front, Walmart is phasing out the position of "zone merchandising supervisor" and moving those employees into new roles as either assistant managers (a salaried position) or department managers (a lower, hourly position). Walmart also plans to hire an additional 7,000 to 8,000 department managers, says Kory Lundberg, a company spokesman. The zone manager position was initially designed as a step between department manager and associate manager, but Lundberg says it often overlapped with other roles, and could cause confusion over who was in charge of a particular store area. "We wanted to get rid of all that complexity," he says.
In hiring additional department managers, Walmart is attempting to ensure that the various sections of its big-box stores actually are being attended to. Previously, department managers in Walmart stores across the U.S. would be assigned to oversee a couple of different things—maybe chemicals and paper products, Lundberg says—despite the fact that not all stores are laid out the same way, and in some, to continue with the example, the chemical aisles and paper products aisles might be far from each other, causing department managers to run back and forth between them. Walmart CEO Doug McMillon has estimated that improving the company's so-called in-store execution could be a $3 billion opportunity.

Anyway, these raises and other changes are all proving costly for Walmart, just like it said they would. "We've been very clear from the very beginning that this was going to be a year investment for Walmart, that we were going to get the stores set up so that they work for associates and they work for customers," Lundberg says. Despite that, Wall Street was disappointed last month when Walmart reported that profit fell 7 percent and revenue slipped 0.1 percent during the first quarter; "we're not where we want to be in every store," CEO Doug McMillion confessed on the earnings call.
Really, though, it shouldn't be surprising that Walmart is taking a hit in the short term to get its improvement plans underway. At some point, you have to commit to spending the money, and given the pressure from labor activists, the strengthening job market, and general consumer frustration over empty shelves and poor customer service, Walmart seems to finally have reached that point.

---