After all the speculation this week about whether Apple Music will be able to conquer (or at least compete in) the streaming world, Spotify wants to remind everybody that it's still very much the industry's app to beat. In a blog post today, the company announced that it had reached 20 million paying subscribers, up from 10 million a year ago. In total, 75 million people are now using the service worldwide, including its free, ad-supported tier, compared with 40 million last year.
The more paying customers Spotify attracts, of course, the more money it funnels to artists and labels (the company's contracts require it to hand out about 70 percent of its revenues to rights holders). In today's post, it offered a little peek a what those payouts should look like this year. A "global superstar"—meaning a top 10 artist—would have earned about $7.7 million on average from the streaming service over the last 12 months, whereas this year he or she will likely receive $13.9 million. (And no, I have no idea whether Taylor Swift was wise to pull her catalog from Spotify. Either way, I'm sure she's doing fine financially.)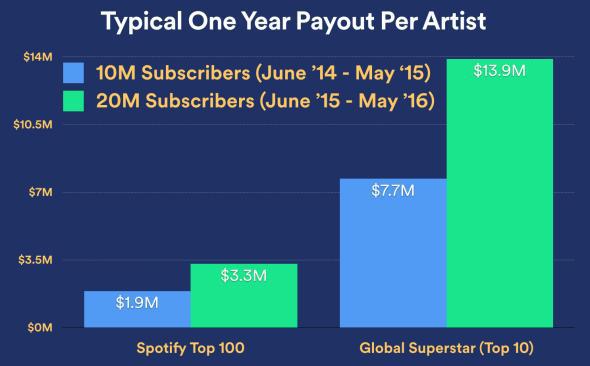 To be clear, even though Spotify is calling these graphs "payouts per artist," it's really talking about the money sent to all rights holders. So labels, publishers, and artists are splitting up this pie, meaning that the actual performers likely aren't seeing anywhere close to this kind of cash. But, you know, that's sort of how the music business has always worked.
As far as Spotify itself, just because it's growing doesn't mean it's getting closer to profitability. Last year, its losses actually grew as it added staff and launched new features. If there really is a magic number of subscribers that will make the company self-sustaining, Spotify has yet to hit it.