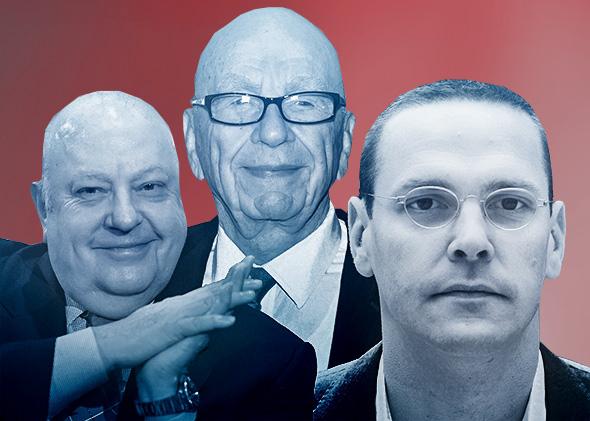 Like Galactus or Queen Elizabeth II, Rupert Murdoch has long appeared to be an unshakeable and deathless presence who will loom over the international polity until the end of time. Apparently not: On Thursday several media outlets reported that Murdoch soon would cede control of 21st Century Fox to his 42-year-old son, James Murdoch. Murdoch the Younger will assume the chief executive position at the media conglomerate, whose subsidiaries include the 20th Century Fox film studio, the Fox broadcast television network, and Fox News.
Rupert Murdoch will continue to be executive chairman of 21st Century Fox, a vague title that apparently translates to "Rupert still gets to do what he wants." What Rupert wants, it seems, is Roger Ailes and Fox News. Ailes reports directly to Rupert, and on Thursday he told Variety that he expects to continue doing so even after James Murdoch becomes chief executive. It's unclear how long this arrangement could last—Ailes is 75, after all, and his contract expires in mid-2016, while Rupert is 84. But it's impossible to read it as anything other than a signal that no significant change is imminent at Fox News—and that while Rupert is stepping aside, he clearly has no plans to go away.
Like an emphysema patient sneaking cigarettes, Rupert Murdoch just can't quit Roger Ailes. The media oligarch has been in thrall to the television executive since 1996, when Ailes took control of the nascent Fox News and proceeded to build it into an aggressively conservative entity whose programs sometimes stretch the definition of "news." This is not a judgment, just a statement: Fox News exists to defend and advance a conservative worldview, or at least profit by pandering to it.
Liberals hate Fox News, but plenty of people like it: The network consistently leads MSNBC and CNN in ratings. In the first quarter of 2015, Deadline reported, Fox News averaged more prime-time viewers in the 25-to-54 demographic than CNN and MSNBC combined. Deadline also noted that Fox has led the other two networks in audience numbers for 53 consecutive quarters. The chattering classes might view Fox News as an embarrassment, but it is a popular one, and that has been Ailes' consistent salvation.
It's no secret that Ailes and Rupert Murdoch have clashed during Ailes' years at Fox. In a 2014 New York piece tied to the release of his book about Ailes and Fox News, Gabriel Sherman wrote that Rupert and other executives "viewed Ailes as a caricature of himself" due to Ailes' unremittingly partisan worldview. But he has generally left Ailes alone to work, for the simple reason that Ailes is good at his job.
"Ailes's profits, and talents for corporate infighting, served him well during his eighteen years working for Murdoch," wrote Sherman in New York in 2014. "He survived dustups that would have sidelined lesser players and even forced Rupert Murdoch to choose between him and his own children. Guess who won?" Spoiler alert: It was Ailes. Ailes is "immeasurably tougher and meaner than anything that Rupert Murdoch's children can come up with," wrote Neil Chenoweth in the Australian Financial Review in 2011. "In a straight fight, James Murdoch is candy."
James Murdoch and Roger Ailes do not appear to like each other. "He's a fucking dope," Ailes said of James Murdoch—according to Sherman—during the News Corp. phone-hacking scandal, which happened under James' watch as head of the Murdoch family's European operations. Compared with Ailes, James Murdoch is positively left-wing, at least insofar as he acknowledges the consequences of man-made global climate change and married a woman who worked for the Clinton Foundation. "Politically, James is not liberal—he's a committed free-market thinker," Sherman wrote in 2010, "but Fox's brand of politics is a problem that, in his view, needs to be managed." By indicating that Rupert Murdoch will continue to manage Roger Ailes, Fox is clearly signaling that managing Fox's brand of politics is a task that can wait until after the 2016 presidential election—if it ever happens at all.
To what extent is Ailes actually responsible for Fox News' success? I am suspicious when any one individual is credited with being so important to an entity's success or failure, as Ailes frequently is. Presumably there are other people at Fox who can keep on doing what makes the network popular: namely, not being MSNBC or CNN. It's downright obvious that Fox succeeds at least partially for the same reason that conservative talk radio succeeds where liberal alternatives fail: There is a bigger audience for conservative bloviation than for liberal bloviation. 
Still, Ailes deserves credit for building and maintaining a roster of very talented conservative bloviators. Fox News' stars, like Bill O'Reilly and Sean Hannity, are very loyal to Ailes—and vice versa. "I like talent and think they're vulnerable," Ailes told the Hollywood Reporter earlier this year. "They get out there in front of the public and take all the criticism. They do a lot of hard work. So one of my jobs is to protect them." When Ailes does sever ties with on-air talent, as he did with Glenn Beck a few years ago, he does so privately and peacefully, and rarely burns them in public. For someone with a reputation of being an aggressive and mean man, he certainly seems to be a pretty decent boss. 
But that doesn't really matter in terms of corporate calculations. What matters is that Fox News makes money, whereas other outposts of the Fox cable empire do not—or, at least, don't make as much. The most recent quarterly earnings report for 21st Century Fox repeatedly noted that growth at Fox News Channel helped the company offset "lower contributions" at some of its other, less popular cable channels. In terms of the company's bottom line, it's going to be much more important for James Murdoch to focus on boosting ratings and revenue at networks like FX and the National Geographic Channel. You don't tinker with a working engine.
Still, Rupert Murdoch is getting old, and, once the 2016 election is over, all bets are off. It's possible other executives at Fox have James Murdoch's ear. It's also possible that any personal grudges that exist are strong enough to overwhelm strict business logic. But there are very few idealists in America's executive suites, and personal animus is quickly forgiven and forgotten as long as the person you hate is good at his job and is making money. It's easy to talk about quality and reputation from an outsider's perspective. From the insider's perspective, quality is defined by ratings and revenue. And as long as those remain high, Roger Ailes and his vision for Fox News will remain in place.
---