The Golden Arches were already creaking—now some are starting to crumble. For the first time since at least 1970, McDonald's will close more U.S. restaurants in 2015 than it will open. That's from the Associated Press, which reviewed McDonald's regulatory filings from the last several decades:
McDonald's Corp. has not reported an annual reduction in U.S. locations since at least 1970, according to archived filings with the Securities and Exchange Commission. For 1969, McDonald's did not include a U.S. store count in its annual report.
The company declined to comment on the last time it reduced its U.S. store base. But given the rapid expansion that characterized its early years, it's likely McDonald's hadn't pulled back since Ray Kroc founded the company in 1955.
McDonald's said in April that it planned to close about 700 underperforming restaurants worldwide this year. In the U.S., the closures will involve both company-owned stores and franchise locations. Becca Hary, a spokeswoman for McDonald's, told the AP that the overall reduction to the company's more than 14,000 locations would be "minimal."
Still, that McDonald's is downsizing at all is another stark indication of just how far the graying king of fast food has fallen. McDonald's same-stores sales (those at restaurants open at least 13 months) have declined for 10 of the past 12 months in the U.S., and every month for the past year globally. In the latest month, U.S. sales slipped a worse-than-expected 2.2 percent. McDonald's will report monthly sales figures once more for June before ending the practice altogether.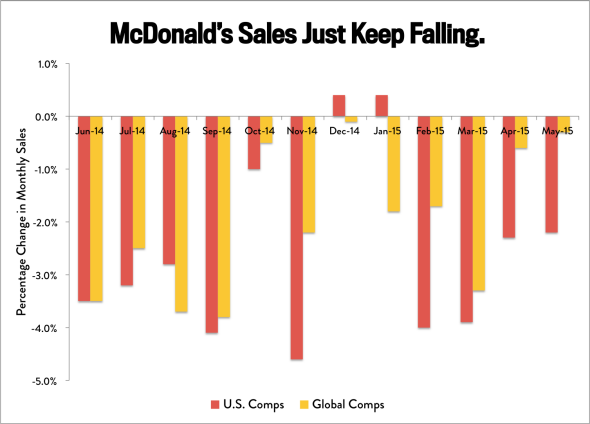 Other than shutting down restaurants and same-store sales data, McDonald's ongoing effort to get America lovin' it again includes testing all-day breakfast, customizing burgers, offering delivery, and giving some employees a raise. Many of those changes have come in just the past few months since Steve Easterbrook took the CEO reins from his failed predecessor, Don Thompson. Presumably there's a unifying strategy behind the hodge-podge of ideas. That, or the company is simply assuming that sooner or later, something's got to work.