Spandex always springs back. On Tuesday, Lululemon, maker of yoga pants and other high-end athletic apparel, reported better-than-expected profit for the first quarter of 2015 and raised its full-year outlook. Presumably, investors took that as a sign that Lululemon has finally moved past its see-through yoga pants scandal, because the company's stock jumped 11 percent. In case you missed it, the fiasco started in March 2013, when Lululemon recalled 17 percent of its black yoga pants on account of their fabric being too sheer. Several months later, the fracas culminated in Lululemon founder and former board member Chip Wilson's now infamous explanation of the apparel snafu—"some women's bodies just don't actually work for it."

Let's forget about old history, though, because today the real story of Lululemon isn't women's yoga pants—it's men's clothes. In the latest quarter, Lululemon's total comparable sales—a metric that includes sales at company-operated stores open at least 12 months and sales made directly to consumers—increased by 6 percent on a constant dollar basis. But same-store sales for Lululemon's men's business grew 19 percent. Over the past year, growth in the men's segment has also consistently outperformed that of the company as a whole, as you can see: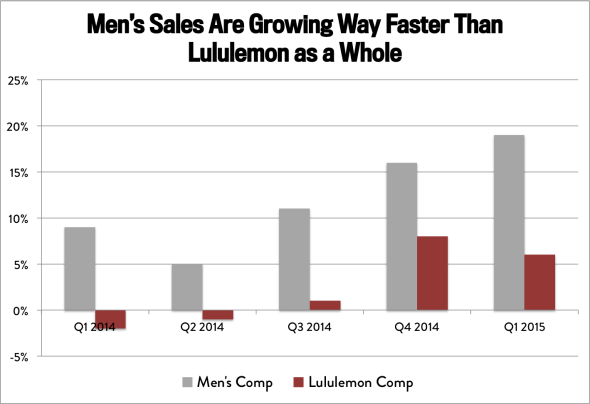 "We are thrilled to see the accelerated momentum in the men's business," Laurent Potdevin, Lululemon's CEO, said on the earnings call. "We've expanded options within popular categories, including our Metal Vent Tech T-Shirts, which further reinforces strong growth of our foundational sweat business." (Yes, he actually said "sweat business.") Lululemon is also testing different store layouts to further improve its men's segment. "The one format that we're most excited right now about is the expanded store where both men's and women's are color-coded, as our female guests still shop a lot for him," Potdevin continued. "I mean, he does—our male guest does have a lot more permission to come into the Lululemon collective—but she still shops a lot for him." Your guess is as good as mine as to what, exactly, that means. But yay for color-coding?
Anyway, it makes some sense that the men's section is seeing much faster growth than Lululemon as a whole. For starters, it's just a lot newer. Lululemon didn't even start talking about having dedicated men's stores until late in 2013. Since then, though, the company has seized on the young, successful, relatively wealthy male shopper as its biggest business opportunity. "We call him the 'athletic opportunist,' " Lululemon SVP Felix del Toro told Time in November. "He's a guy who does a variety of things, whether he's on vacation and he's going to pick up surfing or in the mountains going skiing for the weekend. He could be a team sport player, he could be a triathlete, he could be a marathon runner."
If this describes you, take note, because Lululemon would like your business. Though at the rate its men's sales are currently growing (and have been for the last year), you may already be a convert.