Gap, that most wholesome of American clothing brands, has fallen on hard times. After 13 straight months of declining same-store sales, the company said Monday that it will close 175 of its 675 name-brand stores in North America and cut about 250 corporate jobs. Most of the closures will take place in the U.S., with about 140 shutting their doors by January. So far, Gap hasn't commented on how many store employees may also lose their jobs (a sobering thought after it boosted hourly pay in 2014). "We never want to close stores, but we felt this was the right decision," Art Peck, Gap's chief executive since February, told the New York Times. When all's said and done, Gap will retain about 500 specialty stores and 300 outlet stores.
By shuttering nearly a quarter of its North American stores, Gap is hoping to pare down a real estate portfolio that has become bloated and costly as more shoppers head online. What's left will be "smaller, more vibrant," Gap's global president Jeff Kirwan said. But it will take more than that to turn Gap's sales around. Fashion-wise, the brand has stumbled, with baggy cuts, bland colors, an overload of chambray, and wildly inconsistent sizing. In February, a few weeks after January's same-store sales came in down 9 percent, Gap announced it was bringing back company veteran Wendi Goldman to jump-start growth as executive vice president for product design. And at the company's annual investor day on Tuesday, Kirwan said Gap needed to do more to be a "trusted source" for its core consumers (25- to 35-year-old men and women with slightly above-average spending).

Gap Inc., the parent corporation behind the Gap brand, also owns Banana Republic and Old Navy, as well as Athleta and Intermix. So while people tend to fixate on the flagship Gap label, the story of the company is bigger than that. Here's a quick summary of Gap Inc.'s last 13 months in three charts: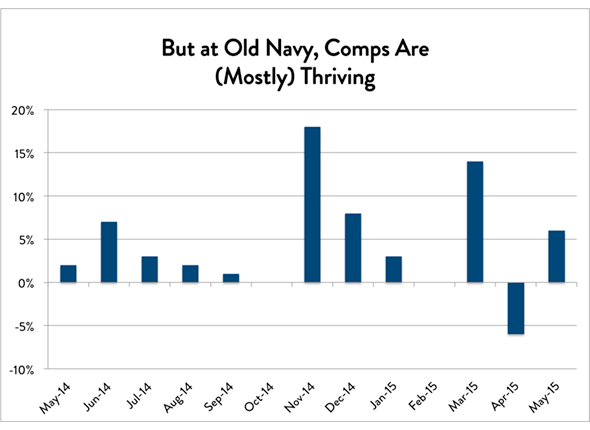 As you can see, the star of Gap Inc. is no longer Gap, but rather Old Navy. Over the past few years, it's been transformed by Stefan Larsson, a longtime H&M employee and global president of Old Navy since 2012. Larsson, who loves to use the word "aspirational" and talk about "the democratization of fashion," has championed the notion that low-cost clothes can be both cheap and style-savvy. "I saw a lot of untapped potential in the Old Navy brand," he told investors on Tuesday. That vision has paid off. In 2014, Old Navy's nearly $6 billion in U.S. sales almost equaled the combined sales volume of Gap and Banana Republic.
Gap, Banana Republic, and Old Navy are all aimed at different consumer audiences, of course—and lately the value-conscious segment has outperformed the others. With economic growth still somewhat plodding, many U.S. consumers have been opting for cheap, value-conscious purchases over slightly more upscale brands. As Business Insider pointed out in April, the Gap–Old Navy dichotomy is one example of how disparities in price (they cite men's jeans retailing for $69.95 at Gap versus $29.94 at Old Navy) can translate to big differences in sales.
So, this isn't to say that the solution for Gap and Banana Republic is to copy Old Navy's marketing and styles. Again, their consumers are fundamentally different. But as Larsson might say, it couldn't hurt for Old Navy's counterparts to be a bit more aspirational, too.