With labor movements gaining momentum, Chipotle is looking to stay one step ahead. On Tuesday, the fast-casual chain confirmed plans to improve benefits for all employees—including part-timers—starting July 1. Workers will get paid vacation time, sick leave, and 90 percent tuition reimbursement on the federal maximum of $5,250. Hourly managers and salaried employees will be eligible for the benefits immediately, while other restaurant crew will reportedly get the tuition perk after they've been with Chipotle for a year.
Chipotle's move on benefits is the latest sign that companies have begun feeling obligated to make their workers happy. So far this year, Walmart, Target, and McDonald's have been among the big names to raise wages for workers. McDonald's also boosted benefits, saying that employees of at least a year would be able to accumulate up to five days of annual paid time off. Just last week, Walmart made a few other concessions: relaxing its dress code, varying its music, and easing up on the air conditioning by one degree.
The pressure on businesses to improve conditions for workers is both political and economic. Vocal campaigns like Fight for $15 have proven quite successful at coordinating major protests and drawing national attention to minimum-wage debates. In the last month, the broad-based push for higher wages won support from Andrew Cuomo and Hillary Clinton. Initially out-there-seeming proposals to raise the minimum wage to $15 have also started to go mainstream. In mid-May, Los Angeles voted to raise its pay floor to $15, becoming the third major city to do so.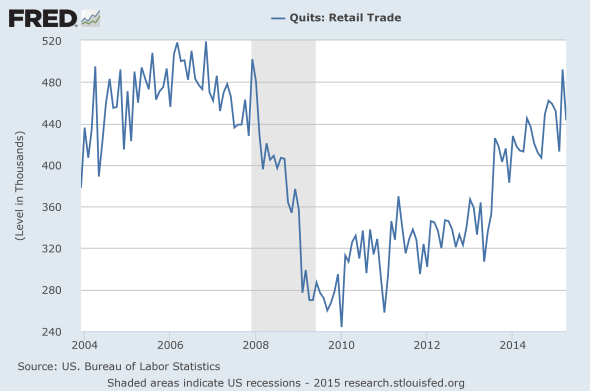 At the same time, the economy has kept chugging along. Payrolls grew by a solid 280,000 in May, the best figure since December, and wage growth picked up a little bit. On top of that, retail quits—a measure of the rate at which workers in retail are quitting their jobs, and therefore a measure of labor market strength—have grown nicely. As you can see in the chart above, quits have been climbing steadily since 2010 and are approaching pre-recession levels. The point is, it's hard to know for sure whether companies are making these changes first and foremost because of political pressure or economic growth. But even in the case of Chipotle—which loves to talk values—they're probably not doing it out of the kindness of their hearts.