AGISTRI, Greece—My wife and I never argued about money until the banks closed here. First it was about her 3-euro ice cream, then my refusal to contest a possible discrepancy on the bill at a souvlaki joint.
We're worried about our paper euros. The only ATM on this small, sleepy island an hour's boat ride from Athens has been dry for days.
"Sorry, temporarily unable to dispense cash," reads the screen, again and again, hour after hour, as tourists and locals step up to check. All eyes turn to me because the Greeks think the machine will work for an American. The news has promised that my tourist plastic is immune to a 60-euro limit imposed on the Greeks. But the machine is empty—even for me. Has been since Saturday.
So here we are, my wife and I, on the hotel balcony looking out over a sparkling turquoise Saronic Gulf and the perfect blue dome of a bone-white Greek Orthodox church, getting on each other's cases about what we can spend today, how much it will to take to get on a ferry back to Athens in a few days and then onto Berlin and the U.S. and out of this country that's tiptoeing toward the edge of economic collapse. She thinks we have enough euros; I'm on the cautious side.
Weirdly, from where we are, it's hard not to feel like we're the only ones who care. When talk turns to "the situation"—if it ever does—we want to be sensitive. You don't want to act like you have thousands of euros stashed in your suitcase up in the room, and they don't want you to feel like it should matter.
Because on the streets in Agistri, it's "No problem, no problem. For you? No problem." Even though many places on the island aren't taking credit cards. Even though banks are shuttered for the week. Even though this place was a whirring circus before the weekend, and now it's all quiet streets, lonely lit-up tavernas, and cafés facing empty-beach-chair beaches.
 "Of course the people are worried. They don't show it," says Maglis Foller, a Swede who has been coming to Agistri for years and used to have a house here. "We asked the taxi driver 'Will the bank be closed tomorrow?'—we knew it from the news—and he said 'Oh, no, everything is normal.' "
Dessert is on the house more often than not. After I buy an evening beer from a tiny shop on the beach, the clerk gives me coins back—he really didn't have to—when I come back to return the bottle. Is he worried? "For you, no problem," he says. But for him, when I press, eh, it's a 60-euro problem. But what about the whole thing, the debt crisis, the Greferendum, the Grexit? He waves a dismissive hand. "Greece? The Euro? No problem." Pause. A shrug. "I think."
Tourism makes up a nice chunk of Greece's economy, and for this island it's really all there is.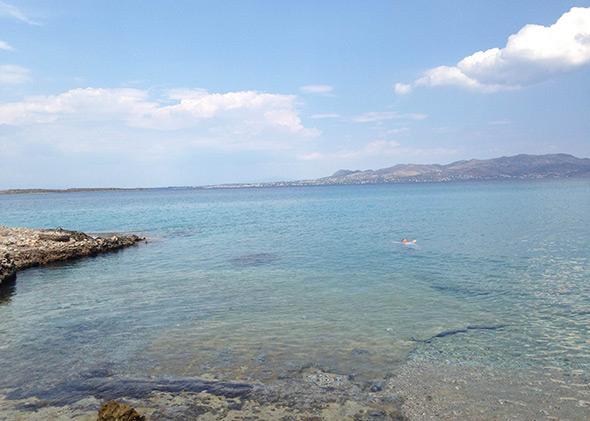 But Agistri, crisscrossed with hiking and cycling trails and surrounded by deep blue and green and turquoise waters, feels like an island where as many Greek tourists come as those from other countries. It has about 1,000 residents, 3,500 hotel beds, and only a few hundred stay throughout the winter. Half the residents are retired; the other half work the tourism trade. There is no doctor. On the island in summer, the smell of fresh octopus smokes off of grills, stray cats lounge around, kids ride bikes, and hip, young Greeks roll cigarettes and camp in the woods above a stunning secluded cove on the island's eastern end that's not so easy to access and where bathing suits are optional. You can rent a motor scooter all day for 10 euros and not fill out any paperwork. At night kids play in the narrow streets, and people walk around licking ice cream cones under sunsets that make you feel guilty for even touching a filter on Instagram.
There is no local newspaper. Inside a gambling parlor, a large flat-screen TV blares the news in Greek, shots of long line after long line at ATMs in Athens where protesters wave Greek flags during anti-austerity rallies in front of the Greek Parliament. The man behind the counter, not worried, says the banks will open next week. So the only ATM on his island is dry? Try the bigger island across the quay.
That's an optimism that extends to the small port area of Milos, up some winding brick streets lined with shops and cafés and hotels and past a small, brown field with a goat on a rope to the local government office building where the flag of the European Union flies outside. Inside, the island municipality's vice president, Tasos Logothetis, says through a translator that the local economy is in good condition.
Because of the bank problems, some tourists have canceled hotel stays on Agistri. How many? Logothetis shrugs. "So-so." Not too concerned. "They're afraid if the banks [are] closing, they can't take [out] money." And that's the case on his island right now. He knows. How long until the ATM here starts spitting cash? "Today or tomorrow." They have to be optimistic here. "What can we do? Can we do something? We wait." How long? "Nobody knows."
There are cracks in the stoicism. Not everyone in Agistri is keeping up appearances. Asked if a street-food restaurant takes credit cards, a young waiter shakes his head solemnly. "The banks aren't helping," he says and then gives a somewhat startled, quizzical look. "You haven't heard … what's going on?"
In a surprise move, as talks broke down this week between Greek's recently elected left-wing government and the country's international creditors, Prime Minister Alexis Tsipras called for a snap referendum on eurozone bailout proposals to be held Sunday. He wants the Greeks to vote "no," which eurozone leaders have framed as meaning a vote for Greece to leave the European Union.
On Agistri, the Greeks will vote at a school near a bakery. Logothetis is urging the people here to vote "yes." "They have a different opinion," he says of the Greek government and its leader. "Maybe it's because he's young."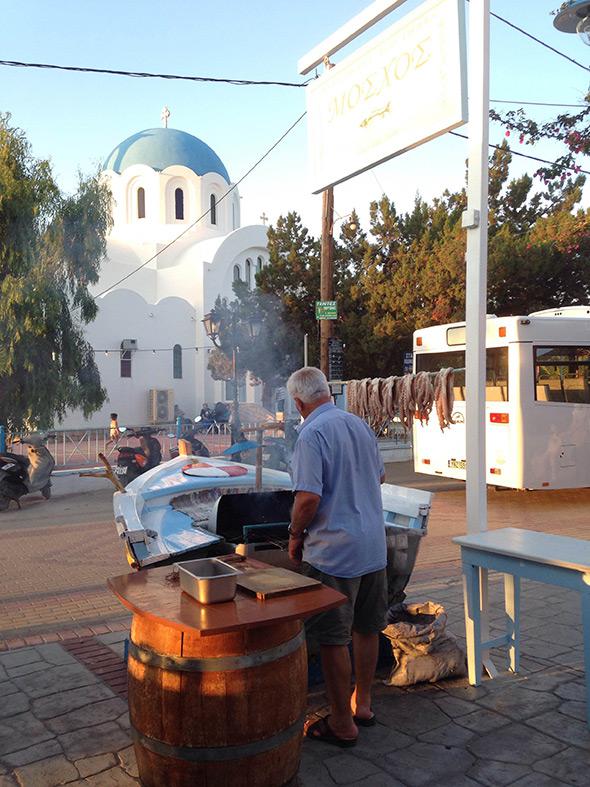 On the other end of the island, dark-haired Mina Nikolaou, 30, with dark brown eyes and bracelets and short jean shorts, works in her mother's shop selling beach gear to tourists for two and a half months a year so they can eat through the winter. She and her mother blame the Greek people for the economic problems in their country. The young people, she says, they don't want to work, but they want to spend their parents' money. Forty euros in bars every night, cigarettes, new clothes, no problem. Mina has two small kids and works enough to keep them fed and clothed. Enough tourists come to Agistri during the summer season to buy sunscreen and flip-flops and blow-up sea turtles, "and that's OK for me," she says. She doesn't need the bars and the smoking and the new clothes like her friends. But if the tourists stop coming to the island because of whatever is happening. Well.
"I'm worried," she tells me. "I stay here in Agistri all the year. My children want to eat, want to go to school with clean clothes, and we don't know if tomorrow we can pay for our children something to eat." Mina plans to vote "no" Sunday. "My problem is not the euro and if Greece goes from the euro," she says. A "no" vote for her, she believes, means the monthly bills might stop outstripping her income.
Next door, in a private dining area of Mosxos, the oldest restaurant on the island, is owner Cristo Panoy, 43, whose great-grandfather opened the place in 1936. He sits on the local political council but doesn't know how he'll vote Sunday.
"This is one question now that for four days is on my mind," he tells me, rolling a cigarette, brushing tobacco off a tablecloth. "I don't know really which way is the solution," he says. How will he figure it out? He leans back, hands up. "I don't know." He's afraid no one really knows what they'll be voting for anyway and more importantly what will happen after it.
"To vote is a one-second job. You put one cross. You vote. But after the cross, do you know what's going to happen the next day?" he says. "Me, I believe whatever the Greeks vote, at the end of the day, the euro, they do what they want to do to Greece, that's for sure. I believe that. But they try to do it slowly to us, not to be hard." He thinks the whole thing is one big game. He doesn't think the timing, during Greece's tourist high season, is a coincidence. 
And what if everything collapses? What's really behind all the "No problem, no problem" on the island? A dark thought. But the Greek islanders will be fine, he tells me, like they were fine during World War II when so many died in Athens but not out here in the sea. They have olive trees on the islands, they have grapes for wine, they have chickens and fish. If it all goes to hell, well, they'll be in hell, and they won't be rich, but they'll be alive. 
Things are sunnier outside on the street where a contingent from London waits for a bus at the start of a three-week holiday, reassuring one another that as long as they stay on the islands throughout this crisis, everything will be OK. They've been visiting Agistri for decades. Michael O'Neil, dressed in a T-shirt reading geezer, says he's come here for so long he doesn't have to book in advance. The locals know him, they call him "Mr. Mike." "Just come to the island, Mr. Mike, and we'll have a place for you"—and they always do. Mr. Mike isn't worried about the ATM up the road not having cash. If he runs out of euros, he says his hosts will feed him anyway, they'll work something out.
"That's the one thing" about Agistri, he says before boarding the bus. "They treat you like family."
Read more of Slate's coverage of the Greek financial crisis.