This post originally appeared in Inc. 
Designing a secure bicycle lock might not sound like rocket science, but with 15 million bike thefts per year—one every two seconds—it's clear that bike security remains an unsolved problem.
Naturally, not every entrepreneur would see it that way. After all, starting up a business in an already competitive field is typically a nonstarter. But Yerka's experience should prove that not every product is perfect—and even if something has already been invented, it doesn't mean it can't be reinvented. Here's how the Santiago, Chile-based startup showed that indeed, the bicycle also needed a redesign.
Last August, co-founders Andrés Roi Eggers, Cristobal Cabello, and Juan José Monsalve shared their company's innovative design for a self-locking bike in a YouTube video that attracted 3 million views in one month. The response convinced the three founders to drop out of Adolfo Ibanez University in Santiago and launch a crowdfunding campaign for their product. In April, Yerka raised $68,000 on Indiegogo to fund an initial manufacturing run in China. The campaign marked the highest total ever for a Chilean project on Indiegogo.      
What separates the Yerka lock system from other bike locks is the way the bike's own frame is used to lock it in place. The removable vertical frame and seat reattaches to the bike's two-part diagonal frame to create a secure locking mechanism.
"If you break the lock, you're breaking the bike," says Cristobal, adding that the company has a patent pending on its design.
Yerka plans to ship its first 300 bikes to select Indiegogo backers in September, after which the founders will begin work on a redesign. One of the features the company is planning to add is bluetooth-enabled unlocking technology, so owners can unlock the bike from their iOS or Android smartphone.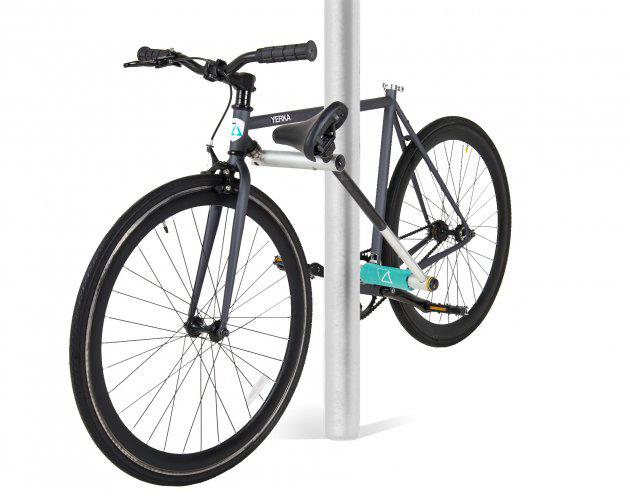 Yerka aims to begin selling its bikes in early 2016, pricing each one at around $500, with an option to add the bluetooth feature for an additional $100. Eventually, the founders may license their design to large bike companies.
While Yerka seems to be off to a fast start, the founders know they still have their work cut out for them.
"We still have some improvements to make," says Cristobal. "This is like the Yerka 1.0."