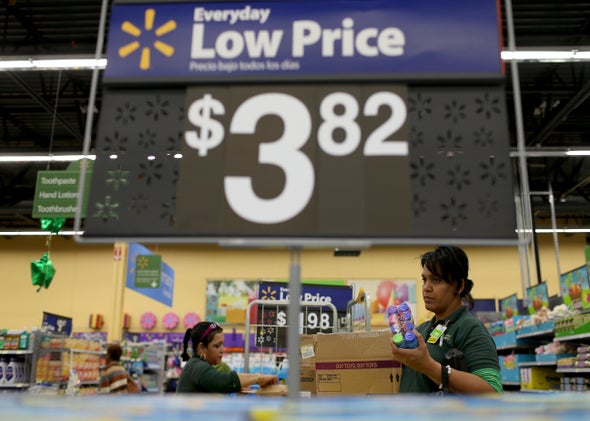 The numbers in Walmart's first-quarter earnings report Tuesday morning weren't that great. Profit fell 7 percent to $3.34 billion. Revenue slipped 0.1 percent to $114.8 billion. U.S. sales rose slightly—good news for reversing the company's struggle at home—but internationally they declined 6.6 percent. Walmart's stock is down about 4 percent.
"We're not where we want to be in every store," Walmart CEO Doug McMillon said on the company's earnings call.
So why were Walmart's results subpar last quarter? Walmart, like most big multinational companies, is being hurt overseas by the strong dollar. It's also been investing heavily in e-commerce. This year, Walmart plans to spend between $1.2 billion and $1.5 billion on digital efforts—a leap from the $1 billion it allocated to that area in 2014. Walmart is currently building out a "site to store" order-and-pickup program and piloting a subscription delivery program that will cost $50 a year. (The delivery program, announced last week, is presumably the company's long-awaited answer to Amazon Prime.)

Also not to be discounted: Walmart recently committed to raising wages for a half-million employees and started making good on that promise in the latest quarter. All hourly employees had their minimum starting pay lifted to $9 per hour, and many full- and part-time workers above entry level got raises as well. In the U.S., Walmart is also restructuring its stores to add nearly 8,000 department managers, Walmart U.S. CEO Greg Foran said. Walmart is also keeping a "checkout promise" from the holidays to have more registers open during peak shopping hours. That's all expensive, but "an investment we believe is imperative to providing customers with the unparalleled shopping experience they expect and deserve, and our associates with more opportunities to build a successful career at Walmart," Foran said.
In the short term, it would probably be better for Wall Street and for Walmart if the company didn't make these investments, and kept costs low to boost profits. But such an approach has repeatedly gotten Walmart in trouble in the past. Walmart's U.S. stores are constantly maligned for their slow checkouts, empty shelves, and general lack of staff. Presumably, the investments Walmart is making could help fix that. True, sales still aren't great, but they've also been weak across retailers this earnings season. For now, Walmart is making what seems like a solid bet that taking a hit up front will pay off with more customers and a happier workforce down the road.

---