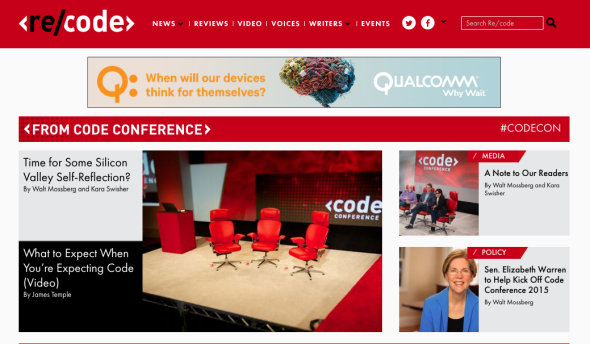 Vox Media, which owns the Verge, SB Nation, the Curbed network of real estate sites, and Vox, is acquiring the Silicon Valley–based tech news site Recode, known for its unrelenting industry reporting. Recode was founded by Walt Mossberg and Kara Swisher in 2013 after they left the Wall Street Journal and the site they ran for the newspaper, AllThingsD.

The New York Times reports that terms for the all-stock deal aren't public, but given Recode's roughly 1.5 million monthly visitors (according ComScore), Vox Media's 53.2 million unique visitors in April were probably appealing. Swisher told the Times that, "Everybody is bigger than us. … It's not a secret that being a smaller fish is really hard." Recode currently has 44 full-time employees and three contractors. The site will also bring its well-known and valuable tech conferences to Vox Media.
Of course, Recode won't be the only tech site in the Vox universe. Verge editor-in-chief Nilay Patel wrote that the difference between Recode and the Verge is the former's emphasis on business news and the latter's focus on tech and culture (and tech culture). "The Verge is for understanding life on the cutting edge. The Verge is for everyone. So when the opportunity to work more closely with Recode arrived, it made perfect sense: Recode covers the business of technology," Patel wrote.
On Friday, news also surfaced that the startup Knowingly Corp. would acquire the Silicon Valley tech news property Gigaom, which was forced to shutter in March. And news of the Recode acquisition came shortly after Mat Honan of BuzzFeed announced that Verge Silicon Valley reporter Nitasha Tiku would be moving to BuzzFeed's recently established Silicon Valley bureau.
It's a game of musical chairs that's become more common in tech-news media, as sites attempt to meld styles and voices and offer something new and accessible. Vox properties seem to prioritize sharability, while Recode has a reputation for being hard-nosed and delivering scoops.
"This is going to be fun," Patel wrote.
---