When the Swedish startup Spotify arrived stateside in 2011, there was nothing else like it: a music-streaming service that offered instant access to just about any song you could think of, all for free—and, somehow, all perfectly legal.
Four years later, the streaming business is getting awfully crowded, and Spotify is just trying to stay a step ahead.
At a press event Wednesday in New York, the company announced a batch of new features designed to keep listeners coming back at a time when rivals like Apple, Google, and Amazon are doing everything they can to lure them away. Perhaps more importantly, the features promise to give advertisers new ways to target the 45-million-odd Spotify users who don't subscribe to its ad-free premium service.   
Here's what's coming in the update that Spotify is rolling out today, starting with users of its iPhone app:
• Spotify Now is a new tab that serves up custom playlists designed to suit various moods, activities, and times of day, like "Morning Commute," "Workday," and "Early Evening." Spotify says the playlists will include both human-curated selections and automated recommendations based on your own music and preferences. This feels like a direct response to Spotify's rivals, notably Beats Music and Songza, which were acquired last year by Apple and Google, respectively.
As I explained when Google acquired Songza, that's not only valuable to listeners. It's also potentially of great value to advertisers, because it tells them what you're doing at any given moment. Think of ads tailored not just to techno fans, but to people who are listening to techno while riding the subway in New York City on their way to work in the morning.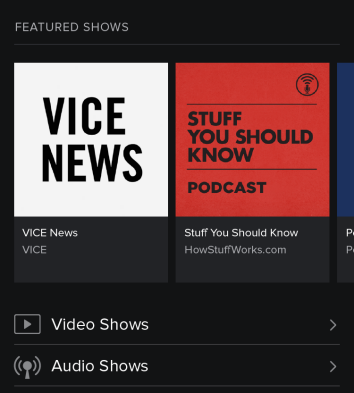 • Video clips and audio shows will now join music among Spotify's offerings. So your "Morning Commute" options may include not only that techno music you're so fond of (God help you), but the latest installments of your favorite daily podcasts, plus video clips from the likes of ESPN, the BBC, and Comedy Central. (Disclosure: Slate is among Spotify's launch partners, and its Culture Gabfest will be among the podcasts initially featured.)
Again, there are ramifications for advertisers as well as users: If Spotify can get people watching their phones rather than just listening, it should have more success with video ads, which tend to be more lucrative than audio spots.
• Spotify Running is easily the niftiest of the new offerings, if it works as promised. When you start running, Spotify says its app will detect your pace and automatically serve up music calibrated to match the beat of your footfalls. This feature won't be limited to the Spotify mobile app: The company says it's partnering with Nike and RunKeeper to integrate Spotify Running into their fitness apps.
Not one of Spotify's new features is revolutionary, and I doubt they'll be enough to keep Apple from poaching some of the company's subscribers when it launches its new, Beats-based streaming service this summer.

But they're quite shrewd in another respect. Spotify's biggest advantage over its competitors is its freemium model: No one else can match the depth of its free service, and that free service in turn serves as a powerful loss leader for the company's subscription business.
Right now, the free service accounts for roughly 75 percent of its users but just 10 percent of its revenue. At a time when Spotify's subscription business is facing unprecedented competition, it's going to have a heck of a time increasing that paying-customer base. So its biggest growth opportunity lies in better monetizing those free users. The new features, provided they catch on with users, should help it do just that.