Austin, Texas, keeps tearing along as the fastest growing big city in the country. According to census figures released today, its population shot up 2.9 percent during the 12 months that end in July of 2014. Among the 50 largest American cities (and to be clear, these figures are for cities proper, not their wider metro areas), the next closest on the list was Denver, which managed 2.4 percent growth. Which is to say, no other major city even came close to Austin's pace of expansion, much as has been the case ever since the recession ended.
Three quick takeaways after the graph: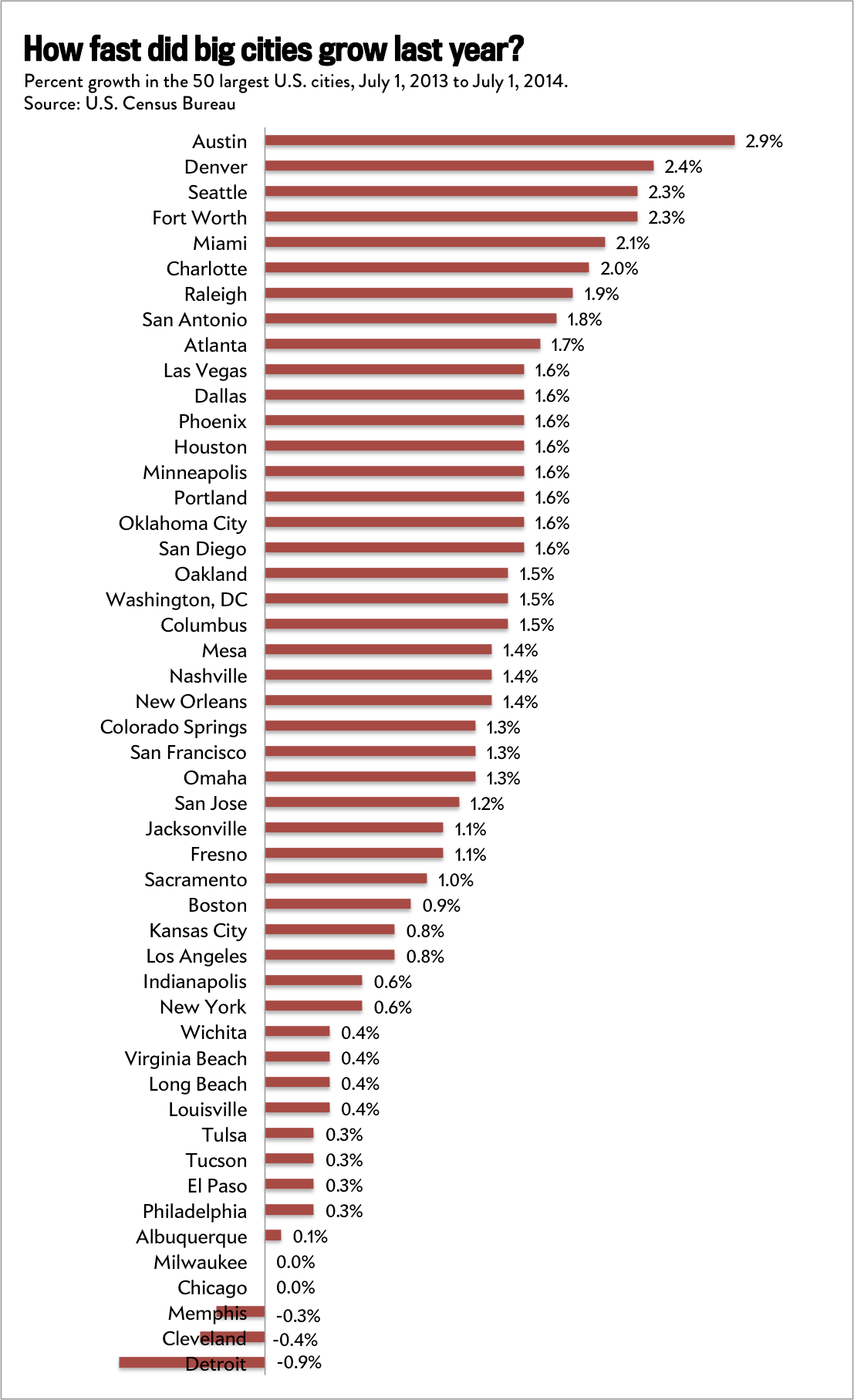 Americans still love the sun
Overall, the vast majority of U.S. population growth is concentrated in the South and West. Likewise, the cities topping this list are mostly scattered through states like Texas, California, North Carolina, Florida, and Colorado (And did I say Texas? Let me say it one more time: Texas.). There are some prominent Eastern and Midwestern exceptions in Minneapolis; Washington, D.C.; and Columbus, Ohio. But the Sun Belt's lure of cheap housing and warm weather isn't losing its appeal to Americans. That said, Pacific boomtowns like Seattle and San Francisco are benefiting more from hot job markets, which have outweighed their miserably expensive real estate prices. 
America's fastest growing city is really a fast growing suburb
Austin is a delightful town with a growing number of high-rises and walkable neighborhoods packed with trendy restaurants and bars. But it's nearly impossible to survive there without a car, an enormous amount of the housing stock is made up of single-family homes, and it's not actually all that noticeable when you leave its city limits. Like many of the places topping the growth charts, much of it just feels like a large collection of 'burbs. Today on FiveThirtyEight, Trulia economist Jed Kolko points out that based on neighborhood density, Austin could be considered more than half suburban, as would other high-growth locales like Phoenix; Fort Worth, Texas; Charlotte, North Carolina; and Houston. So while cities are growing as political units (which is wonderful for their tax bases), that doesn't necessarily mean Americans living in them are opting for what most of us would consider urban lifestyles.

Only a few big cities are outpacing their wider regions
Given how indistinguishable some major cities are from the suburbs that ring them, I got to wondering: How many are actually growing faster than their wider metro area? Not many, it turns out. Among the top 50 cities, only 14 had grown faster than the state as a whole and grown at least 0.2 percentage points faster than their wider metro area (sadly, the census didn't includes a margin of error on its growth estimates, so I wanted to leave a little room). Of that group, the star destinations were Portland, Oregon, and Miami, which are just about as far apart, geographically and spiritually/culturally/psychologically, as two cities could be.