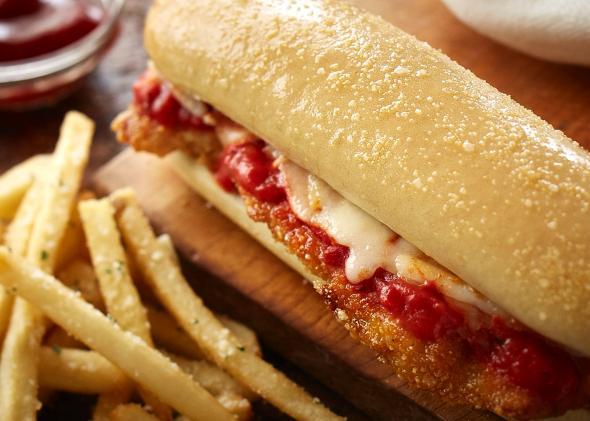 Olive Garden has plenty of detractors, but few would criticize its breadsticks. They're soft and warm, perfectly salted, slightly garlicky, doughy without being gooey. They're also unlimited, and addictively good. My younger brother, as younger brothers are wont to do, used to routinely scarf down 10 at a time. Wait too long for your main course at Olive Garden, and breadsticks risk becoming your entire meal. And come this summer, that'll be exactly the idea.
Olive Garden will serve chicken parm and meatball parm sandwiches on its famous breadsticks starting in June. The parm-ready breadsticks will be slightly shorter than those distributed as appetizers, but also wider, to accommodate the sandwich filling. They'll only be available at lunch (replacing the current sandwiches on the lunch menu) and will start at $6.99 for meatball parm and $7.99 for chicken. Jessica Dinon, a spokeswoman for Olive Garden, said customers shouldn't expect any differences in the sandwich breadsticks. "We're not changing anything—the buns taste like breadsticks and it's the same recipe, butter and garlic salt, that we already use."
Darden, the parent company of Olive Garden, has been pushing through a rough stretch. Last summer, the company spun off Red Lobster, a longtime property, and announced that its chief executive of nearly 10 years, Clarence Otis, would step down from his post. Then in the fall, Olive Garden was publicly ridiculed in a report and presentation from Starboard Value, which, among other things, characterized the restaurant's breadsticks as "just one example of food waste."
Yet even Jeffrey Smith, the activist investor and Starboard CEO who led the campaign against Olive Garden, recently admitted that he enjoys the breadsticks. "We'll have chicken parm on them," Smith said in an interview this weekend. Yes, yes we will.

---