There are plenty of reasons why it's hard to forget McDonald's is doing poorly, but one of the most important is its monthly same-store sales reports. Every month, McDonald's announces how much sales have grown (or fallen) at restaurants open at least 13 months in its various market segments and across the globe. Lately, those figures have been nothing but dreadful. As of April, McDonald's global same-store sales had shrunk for 11 consecutive months while its U.S. numbers had either declined or stayed largely flat. February was particularly bad: Sales plunged 4 percent in the U.S. and 1.7 percent globally, prompting McDonald's to admit it needed to become a "modern, progressive burger company."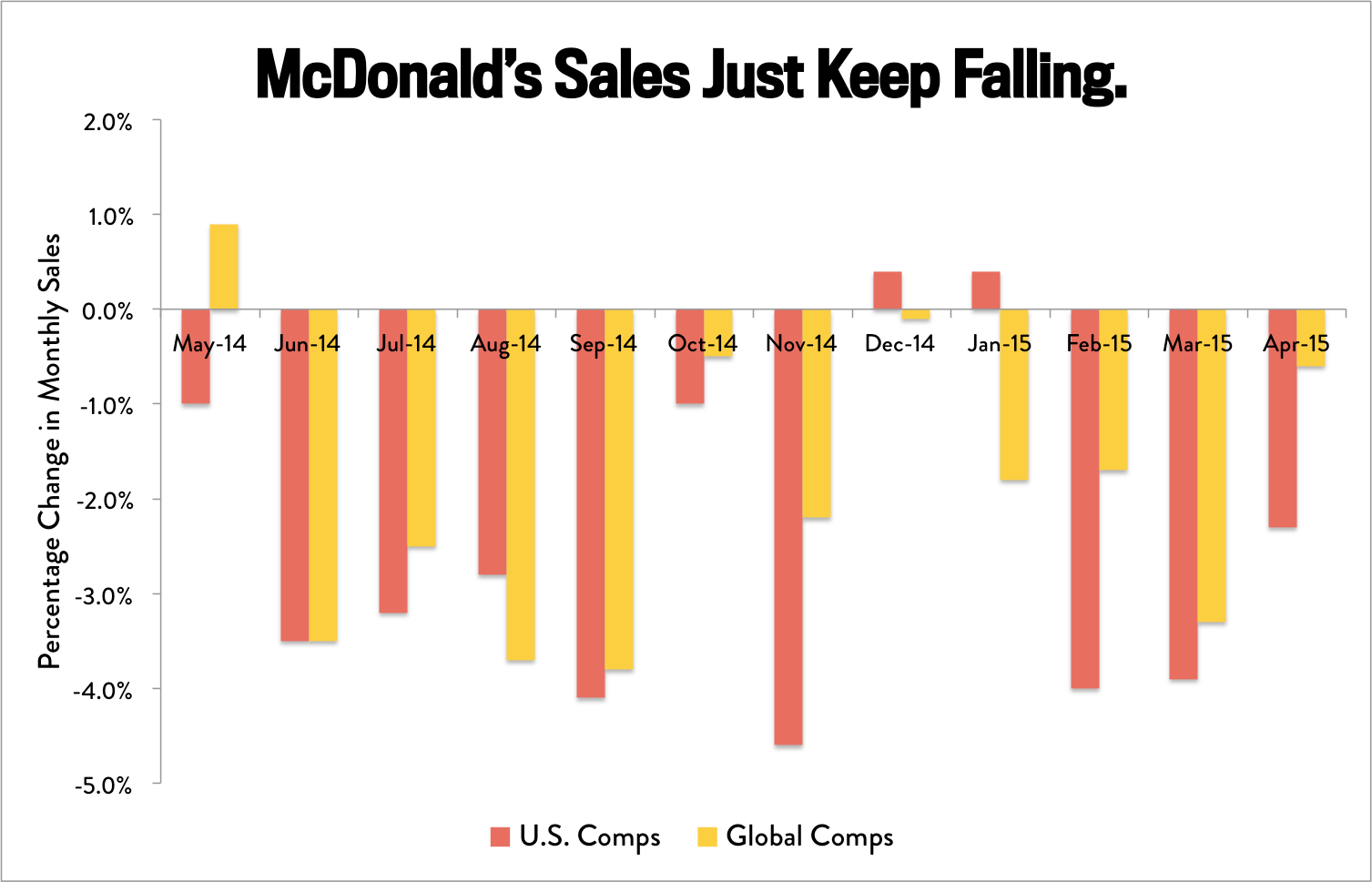 But the McDonald's Misery Watch is about to become less frequent: The company is ending its monthly reporting practice, which it began in 2003. According to Bloomberg, the company plans to stop reporting monthly same-store sales after June, when its second-quarter earnings are released. "To focus our activities and conversations around the strategic, longer-term actions we are taking as part of our plan, we have decided to discontinue our monthly sales disclosure, effective July 1," Steve Easterbrook, McDonald's chief executive, said at an analysts conference in New York City on Wednesday. Other items on McDonald's turnaround agenda: increased hourly wages for employees of its corporate-owned stores, more control for franchisees, customized burgers, and all-day breakfast.
While it'll be sad to see the monthly figures go—especially if your job is to report on McDonald's fortunes (or lack thereof)—this is probably a good decision for the chain. For starters, reporting monthly sales is a rather outdated practice. In 2009, Walmart decided to give up reporting monthly same-store sales. Two years later, there was a "mass exodus" of retailers as everyone from Abercrombie & Fitch to American Eagle ditched their monthly same-store sales reports. Until now, McDonald's has continued to report monthly figures even though most of its competitors do not. Pizza Hut, Taco Bell, Chipotle, and Starbucks are among the chains that don't provide monthly updates on same-store sales. If McDonald's sales aren't scrutinized by investors every month anymore, the company might finally have some breathing room to improve.