March was terrible; April was better. Employers added 223,000 jobs to their payrolls, pushing the unemployment rate down to 5.4 percent, its lowest level since May 2008. That's a reassuring payrolls figure to see after the jobs number plummeted last month—the initial report was 126,000—and was revised down further on Friday to 85,000. You can see the ugly blip that March's figure left in this chart below: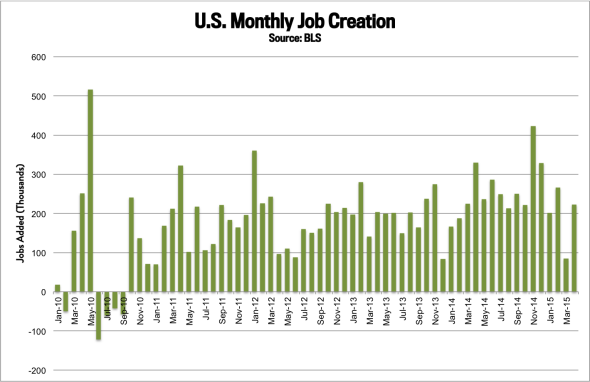 Meanwhile, over the past quarter, we've now added an average of 191,000 jobs per month.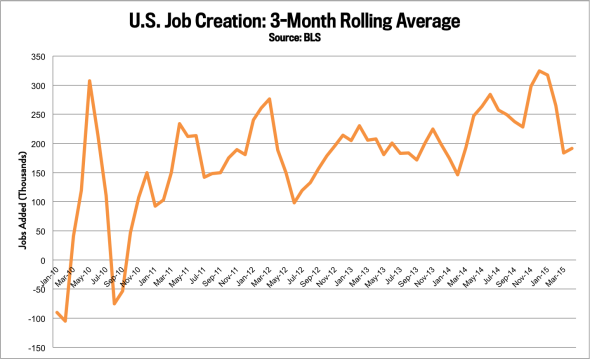 In short, today brings us a pretty boring jobs report, but after some bad numbers in March and other spotty indicators, boring was what we needed. The labor force participation rate was basically unchanged, at 62.8 percent. So was the number of people working part time for economic reasons. Wages also stagnated, with average hourly earnings edging up just 0.1 percent from the previous month (2.2 percent annually), missing expectations for 0.2 percent growth (2.3 percent annually).
The wage piece in particular is interesting, because it suggests that unemployment still has further to fall. Economists eye wage growth as an indicator of "tightness" in the labor market. (Basically, whether workers are in short enough supply that they can start bargaining with companies for higher pay.) Wage growth is a tricky issue because while higher pay sounds good to most of us (more money!), it can also potentially lead to inflation, at which point the Federal Reserve might step in to cool things down. But so far, that hasn't happened. And Friday's data would suggest a rate hike isn't imminent. With stocks up in morning trading, the market seems to agree.