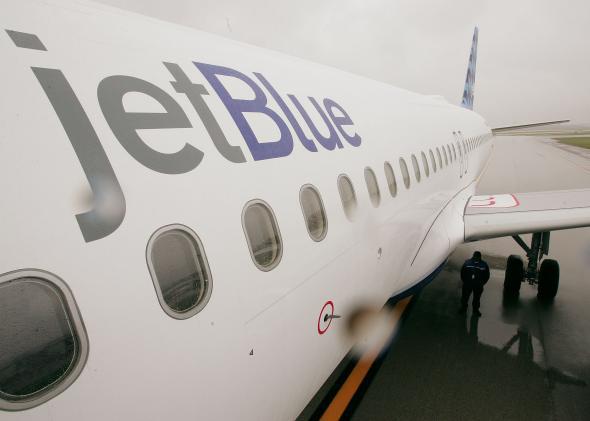 In-flight Wi-Fi may feel like a modern wonder, but it's also kind of terrible. It's slow and flaky. Bandwidth limitations often result in passable Web surfing but no online streaming. It can be absurdly expensive. But starting later this year, Amazon and JetBlue are teaming up to offer travelers a much, much better deal: high-speed broadband Internet service on flights, for free.

Amazon and JetBlue announced Tuesday that flyers will get free access to "Fly-Fi," JetBlue's in-air broadband Internet service, when it comes out of beta later this year. While JetBlue previously offered free in-flight Wi-Fi for basic Web browsing, customers who wanted to stream had to pay $9 an hour to upgrade. Once Fly-Fi fully launches, it will be free for all customers—giving Amazon Prime members access to all the free streaming music and video that come with their subscriptions. A spokeswoman for Amazon did not directly answer whether travelers would be able to use Fly-Fi to access other streaming sites, like Netflix, but did say the connection is optimized for streaming Amazon material.
"We want to provide the best digital video experience to our customers and we're excited that, with JetBlue, we will raise the bar in airline entertainment," Michael Paull, Amazon's vice president of digital video, said in a statement.
Amazon has spent the better part of the past year pouring billions into its signature Prime program. In 2014, the company added things like free music streaming and unlimited photo storage. It also raised the price of Prime for the first time since the program was introduced in 2005—to $99 from $79—but as my colleague Jordan Weissmann argued in Slate at the time, that was still a bargain. And the investments have seemed to pay off. Last year, Amazon said it grew Prime subscribers by 53 percent worldwide and 50 percent in the U.S.
Ironically, while Amazon has added freebies to its service, JetBlue has reduced them. Last fall, JetBlue announced that beginning in 2015, it would eliminate its longtime "first bag free" policy and shrink legroom on flights to make space for additional passengers. Similar things have happened across the industry, with seat sizes dwindling and air carriers parceling out new fees.
And that's why the Amazon-JetBlue partnership seems like a pretty great deal for everyone involved. Customers get free, fast Internet service on their flights—a rarity when most airline Wi-Fi costs several dollars to several tens of dollars per day. Amazon gets a captive audience that it can market Prime to and encourage to check out its streaming video store. And JetBlue gets to advertise a big perk that might also distract flyers from lamenting their shrunken legroom.
---