Of Uber's many image battles, its fight in India has been among the most difficult. Last December, Uber was banned in India's capital after one of its drivers allegedly raped a female passenger. The incident sparked widespread anger toward Uber, which critics said had failed to implement adequate safety measures like strict background checks for drivers. Uber resumed service in New Delhi in late January after announcing that it had increased its safety requirements. According to government officials, though, the company has remained blacklisted in the capital.
A few months later, Uber is taking another stab at convincing Indian regulators and riders alike that its service is, in fact, safe. The company on Thursday said that an alert feature it began testing in February is in the process of being deployed across cities in India. The so-called SOS button is designed for the "rare event of an emergency while on an Uber ride," the company says on its blog. The alert button appears for riders in the upper-right corner of Uber's app. When pushed, it connects the rider to local police and also sends out a real-time alert with the rider's info, driver's info, and GPS location. All that data is then "projected on a dedicated screen in the control room of local law enforcement," Uber explains, which "enables the police to act within seconds of being alerted."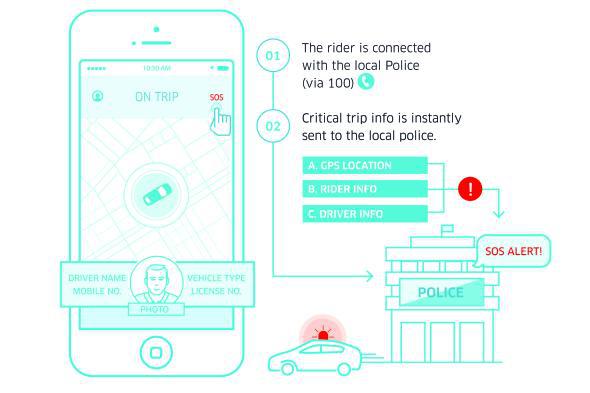 As Uber continues its quest for global ride-hailing domination, India is crucial to win. The country is Uber's largest market outside of the United States in terms of cities covered and has a radio taxi market worth an estimated $6 billion to $9 billion. Uber, which has raised heaps of funding for a valuation that tops $40 billion, has been upfront about the importance of capturing foreign markets, especially in India and other Asian countries. In a blog post at the end of 2014, Uber CEO Travis Kalanick noted that a then-recent $1.2 billion funding round would help the company make "substantial investments, particularly in the Asia Pacific region" in the coming year. Earlier this month, Uber also launched an autorickshaw service in New Delhi that lets users pay their fares in cash to better compete with Ola, a local rival and India's biggest online cab-booking company.
Despite its efforts to win over consumers and politicians in India, Uber's regulatory future there remains uncertain. The company notched a big victory in mid-January when Kolkata, one of its fastest-growing cities, passed ride-hailing-friendly rules. Earlier this month, on the other hand, local news outlets reported that the government was weighing a nationwide ban of all mobile ride-hailing apps—Uber and Ola included. Uber didn't immediately respond to a request for comment, but it seems pretty clear that its efforts with the new SOS button are designed to improve safety and, in doing so, to stave off just such an India-wide ban. In that way, you might say it's Uber's own kind of SOS.