As Uber campaigns for control of the global ride-hailing market, a unique skirmish is playing out in San Antonio. On Tuesday, Uber announced on its blog that it would mark its first anniversary in San Antonio by suspending operations there after April 1. "City officials have created a regulatory climate that makes it impossible for us to meet the high standard of service that riders from over 170 cities across the U.S. have come to expect," Uber's blog post stated. "By adopting these rules, San Antonio officials have eliminated thousands of jobs and a safe transportation alternative from their city."
That Uber is facing regulatory scrutiny from local officials is nothing new. But the way it's responding in this case is notable. Typically, Uber deals with unfriendly regulations by ignoring them and brashly continuing to operate. In this case it's taking the opposite tactic. Essentially, Uber is abandoning San Antonio in protest until the city adopts regulations that it finds more palatable. And the company is betting that with the right amount of politicking plus some good ol' fear of missing out, it can get the people of San Antonio to succeed in changing local policies where its own representatives failed.
To state the obvious, the rules San Antonio's City Council passed to regulate so-called transportation network companies are much stricter than Uber would like. Under San Antonio's ordinance, Uber drivers must supplement Uber's background check by submitting their fingerprints and comply with random drug testing; Uber has estimated that complying with all of the city's regulations would cost drivers about $300 apiece. The company must also meet stringent insurance requirements and pay a nonrefundable annual fee of up to $25,000 to the city for its drivers to operate. Back in December, a few days before San Antonio's city council voted on the proposed rules, Uber threatened that adopting the regulations would "likely result in Uber closing their operations" in the area. Now it's making good on that.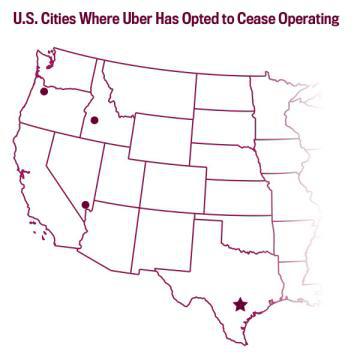 Uber has tried a strategy along these lines in three other U.S. cities: Boise, Idaho; Las Vegas; and Portland, Oregon. The situation in Boise is perhaps most comparable—in late February, Uber general manager Bryce Bennett announced the company would suspend operations in Boise as the city "is headed down a long path that would lead to unworkable and outdated regulations." Boise's proposed regulations were "unworkable and onerous" he wrote on Uber's blog. "To be clear," he added, "we are not opposed to regulations, nor are we closing the door on future conversations."
So if Uber isn't closing the door but is also refusing to operate under existing regulations, what is it doing? Turning the conversation over to the voters. At the bottom of its Boise and San Antonio blog posts, Uber encourages its supporters to sign petitions and turn out for city elections to vote. The Boise petition has garnered 2,178 signatures; the San Antonio one more than 13,000. As BuzzFeed's Johana Bhuiyan observed in February, Uber's millions of riders in the U.S. have "given it some of its best leverage." For evidence, she cites Uber's stunning coup in Illinois, where the company rallied 90,000 customers to petition the governor to veto ride-hailing rules from the Illinois House and Senate (he did) and then publicly released contact information for legislators who might attempt to override that veto. This past January, Illinois Gov. Pat Quinn signed legislation that Uber dubbed "the most progressive" in the U.S. "Uber didn't just win," Bhuiyan writes, "it ran the field."
When Uber was first getting started, it routinely fought cease-and-desists to get off the ground. But now that Uber is everywhere, it has much more clout. So when regulators try to get in the way, Uber plays its trump card—halting service and letting thousands of irate locals do the rest. In San Antonio, we probably won't know the outcome of that strategy until the city's elections come around in May. If Uber's march across the rest of the U.S. is any example, though, chances are it will win.