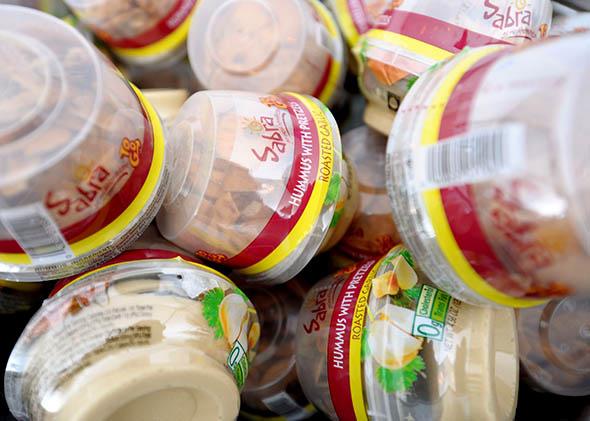 Sabra Dipping Co., the brand known for its hummus, baba ghanoush, and other Mediterranean-style offerings, is recalling roughly 30,000 cases of its classic hummus because of concerns about listeria contamination. So far, there haven't been any confirmed reports of the product causing illness in consumers, but the company initiated the recall after a random sample taken at a store on March 30 by the Michigan Department of Agriculture and Rural Development tested positive for Listeria monocytogenes. That's a bacterium known to cause serious and sometimes fatal infections in young children, pregnant women, the elderly, and other people with weakened immune systems.
What's this mean for you, concerned hummus consumer? Well, in its press release, Sabra lists the classic hummus products affected by the recall. (They include 10-ounce, 30-ounce, and 32-ounce hummus containers that are "best before" May 11, as well as the 17-ounce six pack and classic/garlic hummus dual packs with the same "best before" date.) Sabra is advising consumers who bought any of these products to "dispose of or return it to the place of purchase for a full refund." So for starters, definitely check the dates on any Sabra hummus you may have purchased recently. The company has also provided a toll-free hotline for consumers to call with questions during business hours. That's nice, but when I tried the hotline four times this morning and afternoon I repeatedly got a busy signal, which may not bode so well for people who are actually trying to reach Sabra with concerns about their potentially contaminated hummus. (I also contacted Sabra for more information directly a couple of times and will update this post if it responds.)
Update, April 9, 1:30 p.m.: A spokeswoman for the U.S. Food and Drug Administration reiterated in an email that consumers who have purchased Sabra hummus recently should check the label and, "if their food item is included in the recall, return it to the store where they bought it or dispose of it." The FDA helpfully maintains a site on listeria, which advises that symptoms can take between a few days and a few weeks to manifest, and may include "fever, chills, muscle aches, diarrhea or upset stomach, headache, stiff neck, confusion, and loss of balance." The Centers for Disease Control and Prevention estimates that one in seven cases of listeria occur in pregnant women.

Sabra isn't the only company to issue a listeria-related recall recently. Late last week, ice cream–maker Blue Bell Creameries halted operations at a facility in Broken Arrow, Oklahoma, after a 3-ounce cup of chocolate tested positive for listeria. A few days later, the FDA told Blue Bell that a pint of its banana pudding ice cream manufactured at the same plant back in February had also come back positive for the bacteria. Blue Bell has now recalled more than 25 products in the last month. Like Sabra, Blue Bell said earlier this week that no illnesses linked to its products have been confirmed yet. On the other hand, Kansas health officials said last month that contaminated Blue Bell ice cream might have contributed to the deaths of three hospital patients in the state. And on Thursday, a spokeswoman for the CDC said three people in Texas had contracted the same strain of listeria during hospital stays after consuming Blue Bell products. So that doesn't look too good for Blue Bell.
As for you: Take a careful look at the hummus in your fridge and the ice cream in your freezer. And good luck getting through on that hotline.

---