Pro athletes are notoriously bad with money, and it's hard to blame them. Most have spent their entire teenage and adult lives focused monomaniacally on playing a sport, and many enter retirement with only the barest amount of financial education or guidance, often after years of attempting to support a circle of less fortunate friends and family on their pay. This is an easy recipe for financial trouble.
But exactly how many end up outright bankrupt? Look up that question, and you'll likely be led to a Sports Illustrated article from 2009 that offered something close to an estimate. "By the time they have been retired for two years, 78% of former NFL players have gone bankrupt or are under financial stress because of joblessness or divorce," Pablo Torre wrote for the magazine, citing "a host of sources," including "athletes, players' associations, agents and financial advisers." Today, however, a new working paper released by the National Bureau of Economic Research is challenging that number, at least somewhat.* Using data on all 2,016 players drafted between 1996 and 2003, it finds that after two years off the field, just 1.9 percent of former NFL pros have filed for bankruptcy. A dozen years into retirement, 15.7 percent have filed for bankruptcy.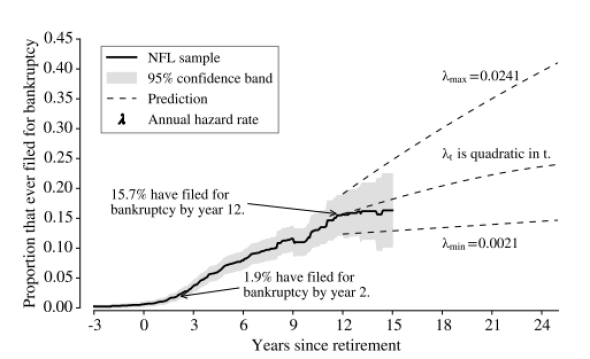 So, is the Sports Illustrated number simply wrong? I wouldn't go that far. While the article is a tiny bit murky on the provenance of its big stat, a source who was familiar with its origins told me that it had in fact been circulated internally by the NFL and its players union. The likely reason it's so high is that it measures much more than bankruptcies. Any former athlete who wound up unemployed or experienced a divorce would be lumped into the 78 percent total, regardless of how well his finances survived the experience. The authors behind the new NBER paper, on the other hand, are looking exclusively at bankruptcies. Since their analysis only includes former draft picks, they may also be tracking a somewhat elite subset of ex-pros. About 30 percent of players in the league were never selected in the draft, and—while I haven't seen any specific stats on this—I wouldn't be shocked if they generally had shorter, less profitable careers.
People also shouldn't lose sight of the big picture on this issue. Ultimately, the new paper does find some evidence suggesting that NFL stars might really file bankruptcy more often than other similarly aged adults. (The authors say they're planning to explore that issue further in the future.) Beyond that, we also should be careful about concluding that NFL players are faring all right financially just because they aren't filing Chapter 7 cases left and right. High-profile bankruptcies like Warren Sapp's and Vince Young's might be memorable cautionary tales. But it's entirely possible to end up penniless but not bankrupt, assuming you don't have much in the way of debt. And, of course, one can fetter away plenty of money without ending up in serious financial peril. A University of Michigan study found that about half of retired players said at one point they'd experienced a major loss in a business or financial investment. For a real-life example, just consider Dan Marino, who according to some reports lost millions on the company that gave us the Tupac hologram, of all things.
*Correction, April 14, 2015: This post originally misidentified the National Bureau of Economic Research as the National Bureau of Economics Research.