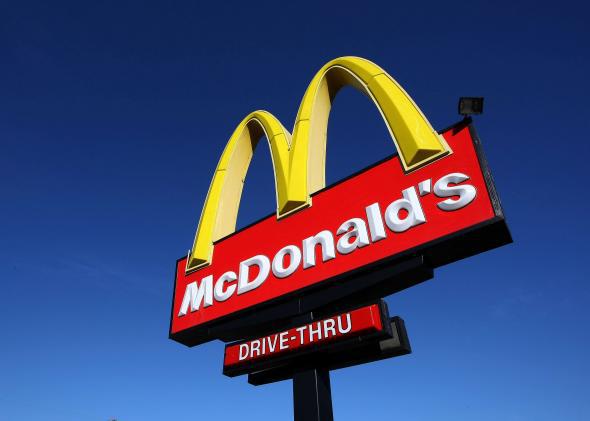 It was another rough quarter for McDonald's. Sales declined and earnings per share missed. Revenue also came in narrowly below analysts' targets. The company is closing 350 more underperforming restaurants than it initially planned in 2015. And things won't be getting better anytime soon. McDonald's says it expects global comparable sales (those at restaurants open at least 13 months) to be negative again in April.
At the same time, investors have apparently acclimated to McDonald's slow, steady decline, or something like that, because while sales continued to slip in the latest month and quarter, the company's stock is up more than 2 percent in midday trading. Keep in mind that over the past year, McDonald's U.S. comparable sales declined in nine months, and global comps fell in 10 of the last 12 months.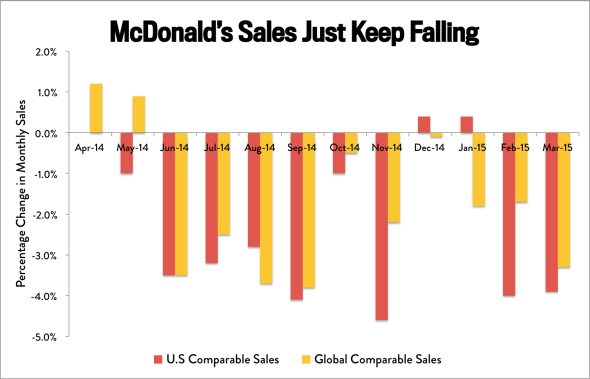 Steve Easterbrook, McDonald's recently appointed CEO, emphasized that the chain is "keenly focused" on its turnaround, which it plans to detail more on May 4. He reiterated on the earnings call that McDonald's needs to become a "modern, progressive burger company" to compete in the current fast-food landscape. "We are evolving to be more responsive to today's customer," Easterbrook said. As part of that, McDonald's plans to simplify its menu and improve its value-menu offerings. "We can't afford to carry legacy attitudes, legacy thinking," Easterbook said.
Like usual, breakfast was a bright spot for McDonald's while lunch and dinner remained weak. The company announced late last month that it would begin testing all-day breakfast at 94 restaurants in the San Diego area. This was exciting, since people tend to like McDonald's breakfast and had long wondered why it was only served until 10:30 a.m. McDonald's decision to finally take that feedback to heart might suggest it really has embraced its mission of becoming more responsive to today's customers. We'll find out more next month.

---