So, the monthly jobs report. It wasn't too good this morning. Employers added a mere 126,000 workers to their payrolls in March—way below expectations—snapping a yearlong streak in which the economy tacked on at least 200,000 jobs per month. Worse yet, the Bureau of Labor Statistics revised its estimates for job growth in January and February down. Over the most recent quarter, the U.S. has averaged just 197,000 new jobs per month.*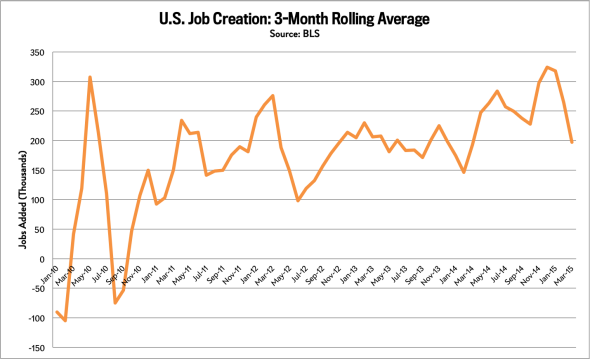 Meanwhile, the total has been trending down since November.
Other indicators, like the unemployment rate (5.5 percent), labor force participation rate (62.7 percent), and wages (up 2.1 percent year over year), were basically unchanged.
Where does that leave us? Well, the economy may in fact be weakening. Winter weather hasn't helped lately (cold and snow aren't great for business). But perhaps more importantly, the rising U.S. dollar is making it harder for U.S. companies to sell their goods abroad. Meanwhile, consumer spending at home has been soft. The Federal Reserve Bank of Atlanta thinks that gross domestic product didn't grow at all in the first quarter. There was some sense that employers might keep up the pace of hiring despite the headwinds. But apparently not. For a while, the most interesting story about the labor market was all about wages—specifically, why they weren't rising faster, despite the declining unemployment rate. Perhaps we need to start worrying about jobs again, too.
*Correction, April 3, 2015: This post originally misstated that the U.S. has been averaging just 197 new jobs per month. If true, that would obviously have merited a much stronger headline. It's 197,000 new jobs per month.