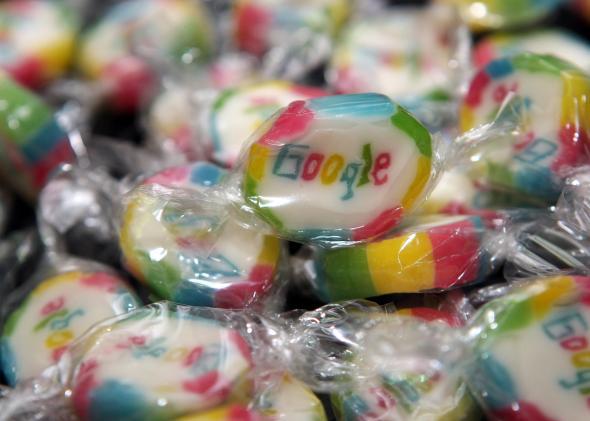 In the first quarter of 2014, when Google missed expectations for both revenue and earnings per share, its stock fell more than 5 percent after hours. This year Google fell short again, but investors pushed shares up almost 3.5 percent in after-hours trading. What gives? Maybe it's all the neato stuff Google has going on.
Google reported revenue at $17.26 billion against a $17.5 billion industry prediction, and earnings per share of $6.57 compared with a $6.63 forecast. Foreign exchange rates negatively impacted revenue by about $795 million and the strength of the dollar also ate at sales. The company attempted to explain away concerns about its rocky performance in mobile advertising and was adamant that the competing Apple Pay is actually a good thing for its Google Wallet and Android Pay mobile payment platforms. ("It's wonderful to see that the industry is opening up here," Google chief business officer Omid Kordestani said, optimistically.)
OK, but enough about business. Let's get to the fun stuff. That new wireless service sounds cheap! Yesterday Google conveniently announced Project Fi, which offers voice and text for $20 per month, plus $15 per gigabyte of data. Outgoing CFO Patrick Pichette said on the earnings call that projects like Google Loon and Google Fiber are funded by Google's assets as an investment in innovation. By contrast, Pichette views Project Fi as an extension of existing infrastructure. "We wanted to try this new idea of fast and easy wireless service," he said. "This one is really about how can we use today's platforms to actually just drive for more innovations. We're pretty excited. It will be interesting to see how the market responds to it."

Google is known for throwing things against the wall to see what sticks, but the company also wants to be clear that it's not all skateboarding and keg stands. "This is a disciplined organization that looks at the facts," Pichette said. Whether it's because they want cheaper cellphone bills or because they actually believe him, investors seem satisfied.
---