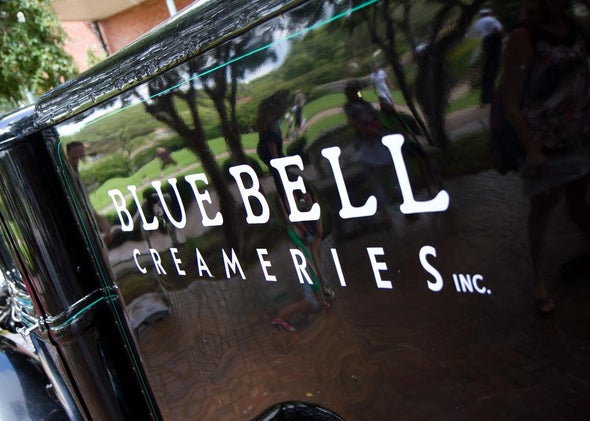 Blue Bell Creameries, the maker of ice cream and other frozen desserts, is recalling all of its products over widespread concerns about listeria contamination. Just a few weeks earlier, Blue Bell halted operations at a facility in Broken Arrow, Oklahoma, after a 3-ounce "chocolate cup" (of ice cream) tested positive for the bacteria.* Listeria monocytogenes can cause serious and sometimes fatal infections in pregnant women, young children, the elderly, and other people with compromised immune systems.
The recall will affect supermarkets, convenience stores, and other retail outlets in 23 states as well as internationally. Blue Bell says on its website that the decision to issue the massive recall came after tests found listeria in the company's chocolate chip cookie dough ice cream on March 17 and on March 27. On Monday, the company was officially linked to a multistate outbreak of listeria by the Centers for Disease Control and Prevention. As of Tuesday, the CDC said it had confirmed that 10 people who contracted listeria across four different states between 2010 and now were connected to the outbreak. All 10 patients were hospitalized, and three in Kansas died. The CDC is recommending that consumers "do not eat any Blue Bell brand products, and that institutions and retailers do not serve or sell them."
In the meantime, Blue Bell appears to have gone into brand-management crisis mode. Its website has been overtaken by two large advisories: "About our voluntary recall" and "A message from our CEO & President." The latter features a video of Blue Bell CEO Paul Kruse apologizing to customers and saying the company is "heartbroken" over the listeria situation. "Our entire history has been dedicated to making the very best and highest quality ice cream we possibly could, and we're committed to fixing the problem," he adds. In the future, Blue Bell says it plans to test the safety of all products before letting them hit the market. Depending on what else the CDC uncovers, though, it might take more than a heartfelt apology for consumers to feel safe putting Blue Bell back in their freezers.
*Update, April 22: This post has been updated to clarify the nature of a Blue Bell product that tested positive for listeria.

---