American Express shares are plunging after the company reported first-quarter revenue below expectations Thursday afternoon. The slump doesn't bode well for AmEx, which could really use a bit of good news. AmEx took a big hit in February after announcing that its 16-year partnership with Costco would come to an end. The news caught investors by surprise, and on Feb. 12 the stock tumbled 6.4 percent or $5.53, its biggest single-day percentage loss since August 2011.
With shares already off 5 percent on earnings, Friday is shaping up to be another ugly trading session for AmEx, as you can see in the Yahoo Finance chart below: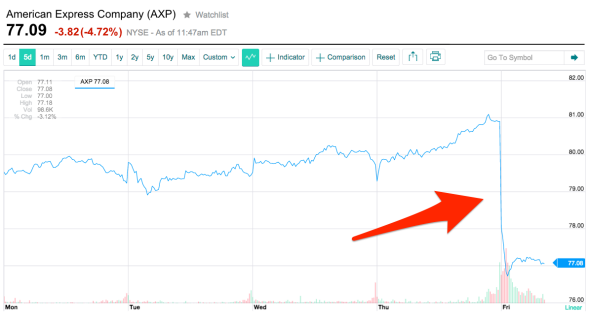 American Express CEO Kenneth Chenault said in the company's earnings release that the quarter showed "solid core performance" despite "an impact from several of the headwinds we're confronting." Those headwinds include the strong U.S. dollar, which is broadly hurting corporate profits, as well as continued fallout from the Costco loss. (According to Bloomberg, the Costco partnership accounts for one in 10 AmEx cards and 20 percent of its loans.) AmEx did beat quarterly estimates on profit, with earnings per share that came in at $1.48 versus an expected $1.37.
All in all, AmEx is having a really rough year. Its stock is down 17 percent since January, putting it among the worst performers in the Dow Jones Industrial Average. In late January, the company said it would eliminate 4,000 jobs later this year as a cost-cutting measure. And JetBlue Airways is also dropping its AmEx partnership to team up with Barclays and MasterCard instead.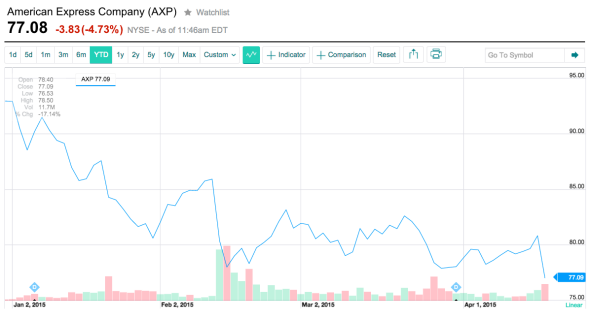 AmEx cards tend to carry higher fees than those from competitors Visa and MasterCard, which hasn't helped the company convince more merchants to accept it as a payment. Analysts are also concerned that any investments AmEx is making in improving its offerings will hurt before they can start to turn the company around. "My faith in management has been shaken," Walter Todd, chief investment officer of Greenwood Capital Associates, an AmEx shareholder, told Bloomberg late last month. "They need to have more realistic goals about what their revenue-growth potential is." If AmEx doesn't, chances are Wall Street will.