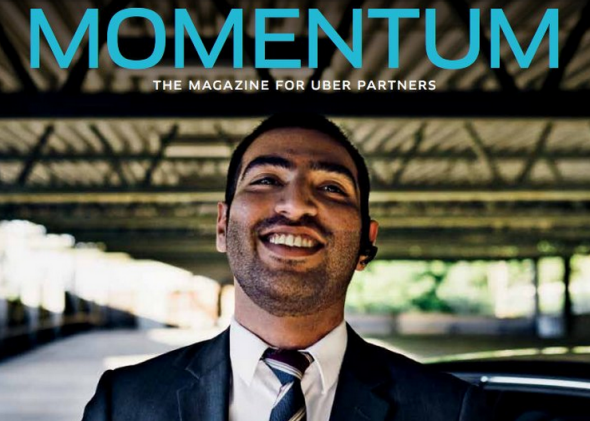 Multibillion-dollar ride-hailing startup Uber said this week that it has launched and is shipping out the first installment of a quarterly publication called Momentum to drivers in Boston, New York City, Chicago, Ohio, Oklahoma, and San Francisco. The goal of Momentum, according to a post on Uber's blog, is to help Uber connect better with drivers. The other, less explicitly stated goal seems to be promoting positive stories about Uber (because if you can't get it from the mainstream media, you might as well start your own publication).
Uber isn't the first tech startup to try its hand at traditional print publishing. Back in November, Airbnb introduced Pineapple, a "magazine of local stories and travel inspiration" that it distributed to select Airbnb hosts. The first issue is 128 pages and sells online for $12. Unlike Airbnb's Pineapple, Uber's inaugural Momentum issue is brief—just 15 pages. It includes a greeting from Ryan Graves, Uber's head of global operations, and details on Uber's loyalty program (which also goes by the name "Momentum"). The magazine also includes tips on how to stay healthy while driving all day, like sleeping right, drinking enough fluids, and taking 10 minutes off from sitting in the driver's seat to do something aerobic. (Recommendations include climbing stairs, jogging, kick-boxing, and swimming.)
The real question is how much money Uber expects to spend on Momentum at a time when most remaining print publications are financials sinkholes. Uber declined to answer questions about the estimated budget for Momentum. Then again, at last count, the company had nearly $6 billion in funding and debt financing and a valuation of more than $40 billion. If Uber wants to throw some of that into fixing a well-established image problem, it can probably afford to take the hit.

---