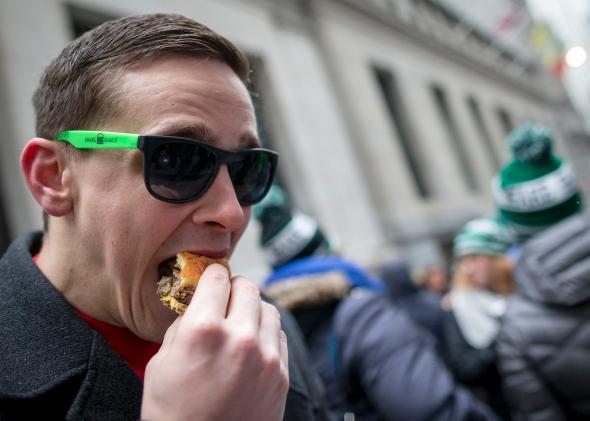 When Shake Shack stock hit the market in late January, Wall Street gobbled it up. During the company's inaugural hour of trading, its share price climbed as high as $50 from the $21 point set by the initial public offering. Since that first voracious day, though, investors' appetite for the stock has cooled. And after Shake Shack delivered its first ever quarterly earnings report on Wednesday, it appears to have vanished.
Shake Shack shares sank 7 percent in extended trading after the company reported a net loss of $1.4 million, or 5 cents a share, in the fourth quarter of 2014 and total revenue of $34.8 million. Sales at restaurants open at least 24 months ("same-Shack sales") increased 7.2 percent during that same period and rose 4.1 percent for the entire fiscal year. Shake Shack also said it plans to add at least 10 new domestic and five international locations in 2015. "We are pleased with the strength of our fourth quarter results," Shake Shack CEO Randy Garutti said in a statement. "All of our stakeholders are rooting for our success."
So if that's the case, why are shares falling? Well for starters, consider how high Shake Shack's valuation was leading up to its earnings report. Even after initial investor enthusiasm waned, its stock had still been trading at about 200 percent of its IPO price. To sustain pricing like that, you don't just need good numbers—you need great ones. Or, as Jefferies analyst Andy Barish wrote in February, Shake Shack had "little room for error."
On top of that, Shake Shack's forecasts for 2015 were tepid. The company's outlook for revenue hit the midpoint of Wall Street's range. Shake Shack also said it anticipates same-Shack sales growth in the low single digits for the coming year. "We're going to continue to be conservative, and guide you to a low single digit comp," a company representative said during today's earnings call. "We're confident in where the comp is. We feel good about it."
Peace of mind is all well and good, but much of the Shake Shack hype has been built on the hope that the chain could be the next major fast-casual success story, à la Chipotle. In its latest fiscal year, Chipotle reported explosive same-store sales growth of 16.8 percent. When that's your comparison, expectations in the low single digits just don't cut it.
---