Remember when McDonald's rolled out "Pay With Lovin'," a two-week promotion that asked customers to do tricks for their food in lieu of, well, paying for it? As cute as the company's Super Bowl commercial may have made that idea look, it seems that most American customers didn't feel the same way. McDonald's U.S. comparable sales fell 4 percent in February.
To put it plainly: 4 percent is a lot. Over the past two years, McDonald's has only seen its U.S. sales drop 4 percent or more in one other month—November 2014. Aside for "ongoing aggressive competitive activity," the company also isn't offering much in the way of excuses. Instead, McDonald's seems to have put its tail between its legs. "Consumer needs and preferences have changed, and McDonald's current performance reflects the urgent need to evolve with today's consumers, reset strategic priorities and restore business momentum," the company said in its release. "The goal going forward is to be a true destination of choice around the world and reassert McDonald's as a modern, progressive burger company."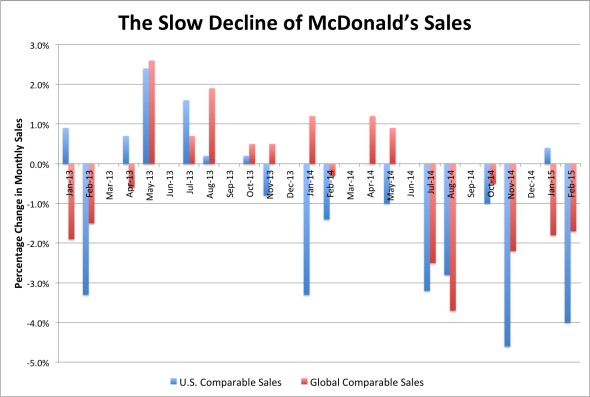 What McDonald's stopped just short of saying is that it desperately needs to become more like the "modern, progressive" chains that are decimating its sales and market share. Chipotle. Five Guys. Shake Shack. Everything fast-casual and "better burger." It's no secret that Americans have fallen out of lovin' with fast-food, and McDonald's is acutely aware of this. What it doesn't seem to know is how to fix it. Failing to find a solution cost Don Thompson the chief executive job earlier this year; as of March 1 the onus is on his successor, Steve Easterbrook. At this point, his best hope might be that sales don't have much further to fall.
*Correction, March 11, 2015: The original headline of this post misstated that McDonald's had admitted it needs to become more like Five Guys. In fact, McDonald's did not specifically name a competitor it needed to become more similar to.