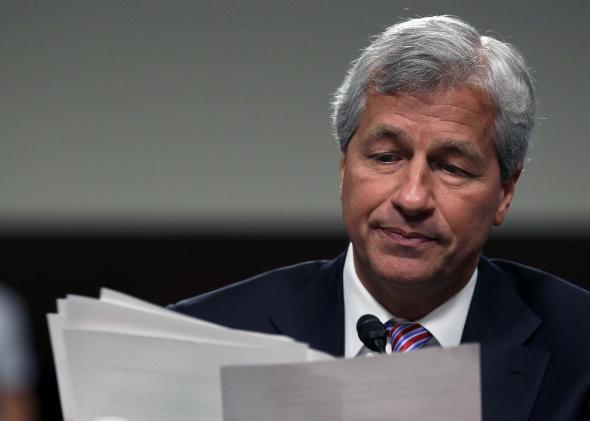 JPMorgan Chase, the bank that has already paid out more than $27 billion in settlements over the past two years, is adding another $50 million to that tally over a "robo-signing" scandal.
The Justice Department said Tuesday that JPMorgan will pony up $50 million in cash, mortgage loan credits, and loan forgiveness after it failed to properly review more than 50,000 documents filed in bankruptcy court. The term in this case is robo-signing, and it means basically what it sounds like—employees robotically signing off on documents without actually reviewing them. In some cases, this is because robo-signers assume whatever they're signing is correct, and don't bother to go over it. In others, the problem is that the signers just aren't qualified to be reviewing the stuff in the first place.
With JPMorgan, the bank admitted to filing more than 50,000 payment-change notices in bankruptcy court that were signed in such a way between 2011 and 2013. At least 25,000 of those were signed by former employees or employees who had "nothing to do with" reviewing the documents, the Justice Department said.
"It is shocking that the conduct admitted to by Chase in this settlement, including the filing of tens of thousands of documents in court that never had been reviewed by the people who attested to their accuracy, continued as long as it did," Stuart Delery, acting associate attorney general, said in a statement. "Such unlawful and abusive banking practices can deprive American homeowners of a fair chance in the bankruptcy system, and we will not tolerate them."
While $50 million is a drop in the bucket for an institution like JPMorgan, the bank is starting to feel the weight of its fines. During the latest quarter, JPMorgan posted a 6.6 percent decline in profit amid more than $1 billion in legal costs. The institution's investment-banking side has suffered in particular, with a 16 percent drop in profits last year despite cost-cutting efforts. JPMorgan's CEO Jamie Dimon has declared banks "under assault." The homeowners whose documents were robo-signed probably felt the same way.
---